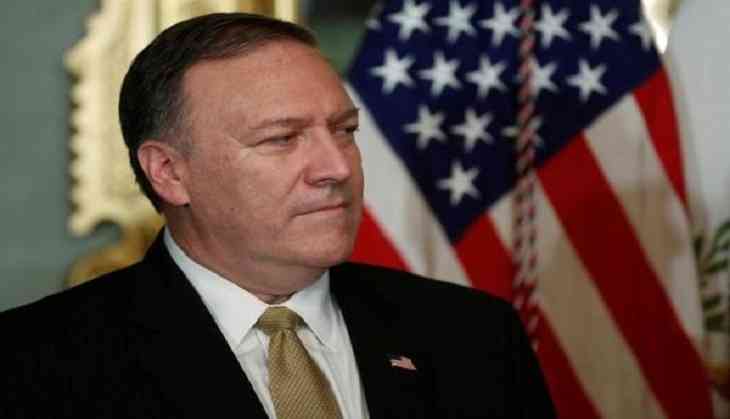 US Secretary of State Mike Pompeo
The process of rapid denuclearisation of North Korea, which will be done by constant negotiations with the United States, will be completed by 2021, US Secretary of State Mike Pompeo said on Wednesday.
In a statement, Pompeo hoped that the nuclear talks between the two countries would lead to long-lasting peace and stability on the Korean Peninsula.
Congratulating North Korean leader Kim Jong-un and South Korean president Moon Jae-in on the "successful outcome" of the the meeting between them in Pyongyang, Pompeo said, "We welcome President Moon and Chairman Kim's reaffirmation of the Singapore joint statement of complete denuclearisation of the Korean Peninsula, including the permanent dismantlement of all facilities at Yongbyon in the presence of US and IAEA inspectors."
"We also welcome Chairman Kim's decision to complete the previously announced dismantlement of the Tongchang-ri site in the presence of U.S. and international inspectors as a step toward the final fully verified denuclearization of North Korea, as agreed by Chairman Kim at the Singapore summit with President Trump," he added.
The US Secretary of State further noted that Washington "is prepared to engage immediately in negotiations to transform relations between the two countries."
Furthermore, Pompeo extended an invitation to his North Korean counterpart Ri Yong Ho to meet in New York City next week during the United Nations General Assembly meeting. He also invited North Korean representatives to meet Special Representative of North Korea, Stephen Biegun, in Vienna at the earliest opportunity.
Earlier on Wednesday, North and South Korea signed a joint military agreement and a joint statement to heighten peace and denuclearisation talks.
Additionally, the two sides agreed to take "additional step" to achieve the process of denuclearisation.
President Moon and Kim also proclaimed the end of the state of war, a South Korean presidential spokesperson confirmed.
As a part of the agreement, the two Koreas agreed to cease large-scale artillery exercises and military flights near the demilitarized zone to prevent incidents from November 1.
Reacting to the meeting, US President Donald Trump lauded Kim's steps to shut down a nuclear testing site in the presence of international experts and dubbed the inter-Korean summit as "very exciting".
"Kim Jong Un has agreed to allow Nuclear inspections, subject to final negotiations, and to permanently dismantle a test site and launch pad in the presence of international experts. In the meantime there will be no Rocket or Nuclear testing. Hero remains to continue being.....returned home to the United States. Also, North and South Korea will file a joint bid to host the 2032 Olympics. Very exciting!" Trump wrote in his Twitter handle.
-ANI