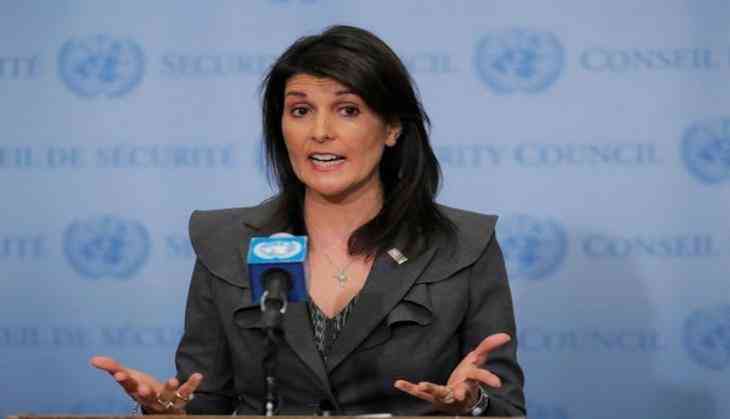 US Ambassador to the United Nations Nikki Haley, who spoke at the University of Houston on Tuesday, was heckled on campus, as student activists confronted her about her positions on the violence in Gaza and toward the Palestinian people.
Haley spoke in the Student Center South Theater about an array of topics, from leadership to global challenges to recent events in Texas, reported Sputnik.
The video went viral online, showing students holding up Palestinian flags.
As Haley went on to say, "I'm here following a very busy few weeks in American foreign policy", a protester stood up and shouted at the top of his lungs.
"Nikki Haley, the blood is on your hands! You continue to sign off on the genocide of a native people! You are an accomplice to terrorists and colonizers!," he said, according to Sputnik.
After this rant, dozens of protesters stood up and erupted in a call-and-answer chant across the auditorium, holding up Palestinian flags.

They chanted "Nikki Nikki can't you see? You are on a killing spree!" and "Nikki Haley you can't hide, you signed off on genocide!" Security personnel more or less immediately responded and attempted to escort the protesters out of the auditorium.
(ANI)