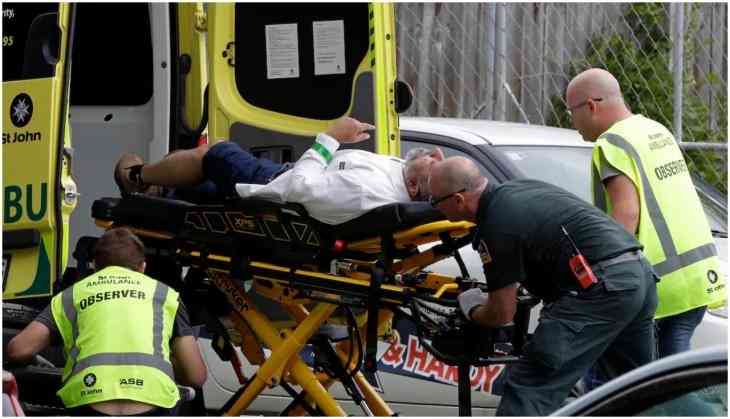 In mass shootings at a crowded mosque in the New Zealand city of Christchurch, 40 people have died and 20 injured in two mosques shooting in New Zealand on Friday afternoon, Prime Minister Jacinda Ardern informed.
The police have confirmed shootings at "two locations". New Zealand police deployed armed officers in central Christchurch. Australian PM Scott Morrison said the shooting in Christchurch mosques were carried out by an Australian-born citizen, "an extremist, right-wing, violent terrorist".
One of the mosques, where a shooter opened fire--- Masjid al Noor was filled with worshippers, including members of the Bangladesh cricket team. Bangladesh team narrowly escaped New Zealand mosque shooting.
New Zealand police say they have defused a number of improvised explosive devices found on vehicles after the Mosque shootings. Four people in custody; one woman, three men, said New Zealand Mike Bush.
AFP News Agency: Armed police in New Zealand swarm central Christchurch amid reports of a shooting at a mosque in the South Island city, as local media report multiple casualties

— ANI (@ANI) March 15, 2019
"Police are currently responding to reports of shots fired in central Christchurch at around 1:40 pm. Armed police have been deployed," New Zealand police said on Twitter. Officials have urged anyone in central Christchurch to stay indoors.
"A serious and evolving situation is occurring in Christchurch with an active shooter," police said in a statement.
"Police are responding with its full capability to manage the situation, but the risk environment remains extremely high."
An eyewitness said he saw children being shot. "There were bodies all over me," he said.
Police Commissioner Mike Bush has urged all schools in the city had been placed in lockdown in response to "a serious ongoing firearms incident". "Police urge anyone in central Christchurch to stay off the streets and report any suspicious behaviour," he said in a statement. Unconfirmed reports said the shooter was wearing military-style clothing.
Notably, the Muslims form just over 1 per cent of New Zealand's population.
Also read: China On Blocking Masood Azhar's Ban: Need more time to study matter