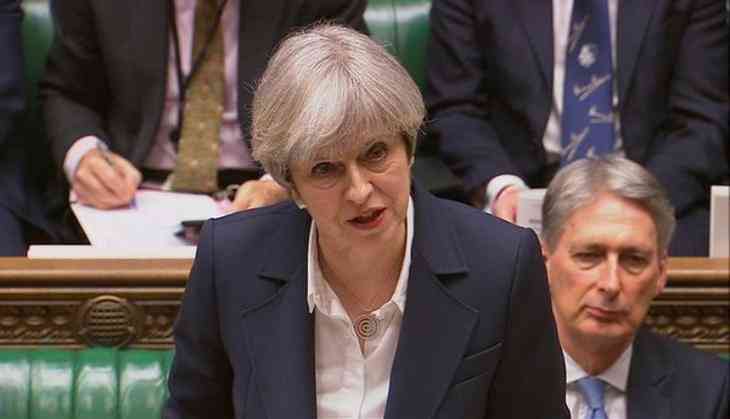 British Prime Minister Theresa May on 15 September raised the threat level from severe to critical after an explosion on a Tube train in south-west London in the morning.
Islamic State (IS) has claimed responsibility for the explosion in which 29 people were hurt after an Improvised Explosive Device (IED) blasted on a Tube train at the Parsons Green Station.
May warned another attack could be "imminent" and raised Britain's terror threat level to critical as police continue a major manhunt after today's Parsons Green tube explosion, reported The Express.
The Prime Minister also said military personnel will replace police officers on guard duties, and warned the public would see a greater presence of armed police on the streets.
She, however, urged the public to go about their "business in a normal way."
"The joint terrorism and analysis centre, the independent organisation responsible for setting the threat level on the basis of available intelligence has now decided to raise it from severe to critical," May announced.
This is the fourth time that the assessment has been placed at the highest level in the past 11 years.
"This means that a further attack may be imminent. Following Joint Terrorism Analysis Centre (JTAC) decision, the police have asked for authorisation from the Secretary of Defence to enact part of the first phase of Operation Tempera."
Military personnel are going to replace police officers on guard duty at certain protected sights that are accessible to the public, reported The Express.
It further said that the Met Police later gave a press conference, in which they added military back up has ensured "1,000 armed police officers have been freed up across the country to provide extra reassurance" to the public.
Officers will be placed in transport hubs, at events and in crowded places, some in uniform and some operating covertly.
The IS has claimed responsibility for Friday's Tube train attack.
Quoting security analysts SITE, The Independent reported that a "detachment" from the extremist group was responsible.
"According to a translation by Middle East observer Hassan Hassan, the message on the group's propganda page said: 'A security source to Amaq: the bombing of the IED in the London tube was carried out by a unit affiliated to the Islamic State'," said The Independent report.
WHAT DO THE THREAT LEVELS MEAN?
There are five threat levels, decided by the JTAC, designed to give a broad indication of the likelihood of a terrorist attack.
LOW means an attack is unlikely.
MODERATE means an attack is possible, but not likely
SUBSTANTIAL means an attack is a strong possibility
SEVERE means an attack is highly likely
CRITICAL means an attack is expected imminently
The UK's threat level was upgraded from "severe" to "critical" on May 23 following the Manchester bombing on May 22, in which a bomb exploded in the foyer of Manchester Arena moments after US pop star Ariana Grande left the stage.
The attack left 22 dead and 59 injured.
-iANI