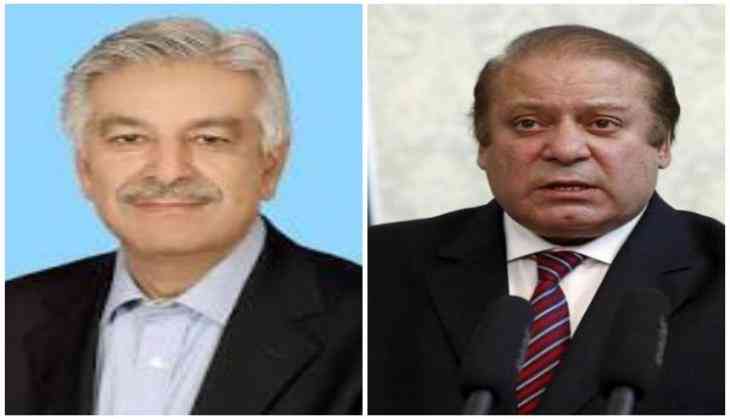 Pakistan's Defence Minister Khawaza Asif is a frontrunner for the post of interim prime minister of the country in place of Nawaz Sharif.
The appointment of an interim prime minister has been necessitated as Pakistan's Supreme Court on 28 July delivered its verdict in Panamagate case and disqualified Nawaz Sharif from continuing as Prime Minister.
According to Pakistani media reports, other names that have been doing rounds are for interim prime minister are: National Assembly Speaker Sardar Ayaz Sadiq and Petroleum Minister Shahid Khaqan Abbasi.
Despite Nawaz's disqualification, ruling party Pakistan Muslim League (Nawaz) enjoys a majority in the Parliament and will rule the country till general elections are held in mid-2018.
According to Pakistani media reports, it was decided in advance that if the Supreme Court disqualifies Nawaz Sharif then Asif will be made interim prime minister for 45 days till someone from Nawaz Sharif's family, like wife Kasloom or brother Shahbaz Sharif, is elected to the lower house of National Assembly.
This is the third time Nawaz has been unable to complete his term as Pakistan prime minister.
The SC verdict says that the cases would also be opened against Finance Minister Ishaq Dar; MNA Captain Muhammad Safdar; Nawaz Sharif's daughter Maryam, and sons Hassan and Hussain Nawaz.
On 3 April, the International Consortium of Investigative Journalists (ICIJ) maade 11.5 million secret documents available to the public for the very first time. The documents, coming from Panamanian law firm Mossack Fonseca, contain confidential attorney-client information for more than 214,488 offshore entities.
The Panamagate case was brought to court by Pakistan Tehreek-e-Insaf leader Imran Khan alleging money laundering, corruption, and contradictory statements by Nawaz Sharif after the Panama Papers leak uncovered links between Sharif's family and eight offshore companies.
-ANI