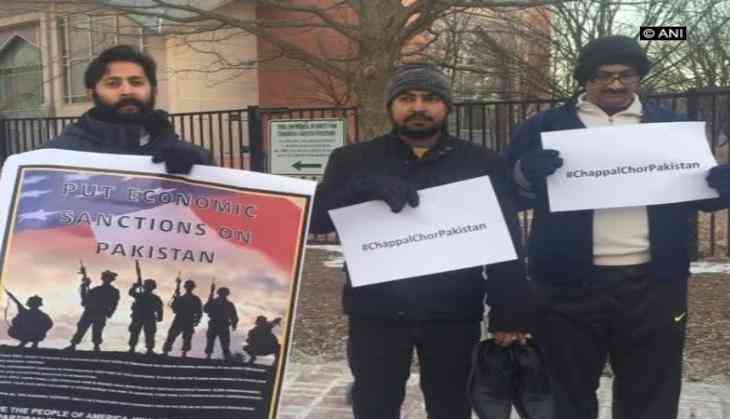 A group of Indian-Americans and Balochs held a protest by the name 'Chappal Chor Pakistan' outside the Pakistan embassy here, over the misbehavior meted out to former Indian Naval Officer Kulbhushan Jadhav's mother and wife.
The protestors also donated used shoes to the embassy saying that 'protest is in solidarity with Jadhav's family.'
An agitated protestor said, "When they stole the chappal of a woman (Jadhav's wife) who was in distress, I hope they can use these also."
Another protestor said that Pakistan's narrow-mindedness has been exposed from the way it treated Jadhav's family.
"Policy makers and people here need to understand that Pakistan as a whole is also being run by narrow-minded mentality," he added.
A meeting took place between Jadhav and his family on December 25 in Islamabad, on the request of the Indian government.
Jadhav's wife was asked to remove her shoes and use another pair as she went in the Foreign Office to meet her husband.
Pakistan claimed that her shoes were confiscated on security grounds as there was "something" in it.
Jadhav is on a death row in Pakistan over charges of terrorism and spying for India's intelligence agency- Research and Analysis Wing (RAW).
On 18 May 2017, the International Court of Justice stayed the hanging after India approached it against the death sentence
-ANI