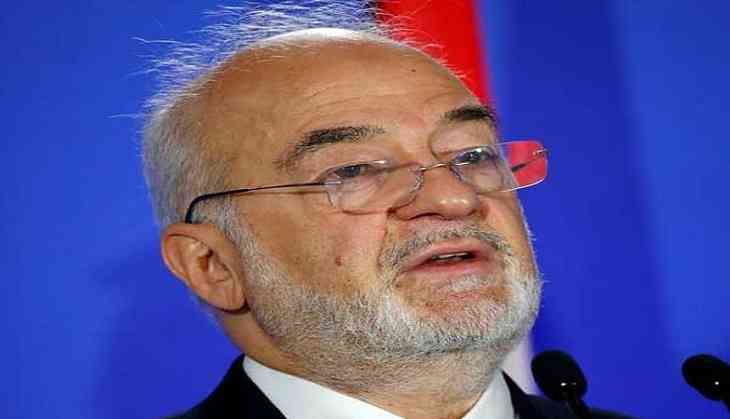 Iraq Foreign Minister Dr. Ibrahim al-Jaafari will embark on a five day visit to India beginning July 24, at the invitation of Indian External Affairs Minister Sushma Swaraj.
Dr. Ibrahim will land in the national capital on Monday, July 24 at around 2:30 a.m. at the Indira Gandhi International Airport, Terminal- III.
He will meet Swaraj, at the Jawaharlal Nehru Bhawan to hold discussion on the entire gamut of bilateral relations between both the countries as well as regional and international issues of mutual interest.
The visit is expected to add further impetus to our mutually beneficial bilateral engagement.
In the afternoon at around 3 p.m. he will hold a meeting with Union Minister of Petroleum and Natural Gas Dharmendra Pradhan at Ministry of Petroleum and Natural Gas, Shastri Bhawan.
Later in the day, at around 4:30 p.m. has will meet Vice President Hamid Ansari at 6, Maulana Azad Road.
On the second day of his visit, Dr. Ibrahim will attend a programme in New Delhi and on Wednesday, July 26, he will fly to Mumbai to attend a programme there.
On the fourth day of his visit, the Iraqi foreign minister will come back here to be a part of another programme and on Friday July 28, he will emplane to Iraq at around 4 a.m.
Dr. Ibrahim will be accompanied by a senior-level official delegation.
"India and Iraq have historically enjoyed close and friendly political, economic and cultural ties. Our robust bilateral trade amounted to nearly US$ 13 billion in 2016-17. Iraq contributes significantly to India's energy security and is the second-largest supplier of crude oil to us (over 37 MMT during 2016-17). Thousands of Indians visit Iraq annually for pilgrimage to the holy cities of Najaf and Karbala," Ministry of External Affairs (MEA) said in a statement.
Minister of State for External Affairs V K Singh had visited Iraq this year to coordinate and facilitate the return of the Indians stuck in Iraq.
Earlier in August 2016, Minister of State for External Affairs M.J. Akbar visited Iraq.
Bilateral trade till August 2016 between India and Iraq was of USD 5077 Mn of which India's Exports accounted for USD 425 Mn and Imports for 4652 Mn.
Indian exports to Iraq consist of cereals, iron and steel, meat and meat products, pharmaceutical products, agro chemicals, cosmetics, rubber manufactured products, paints, gems and jewellery, ceramics, manufactures of metals, machine tools, electrical machinery and instruments, transport equipment, electronic goods, handicrafts, sugar, tea, garments.
-ANI