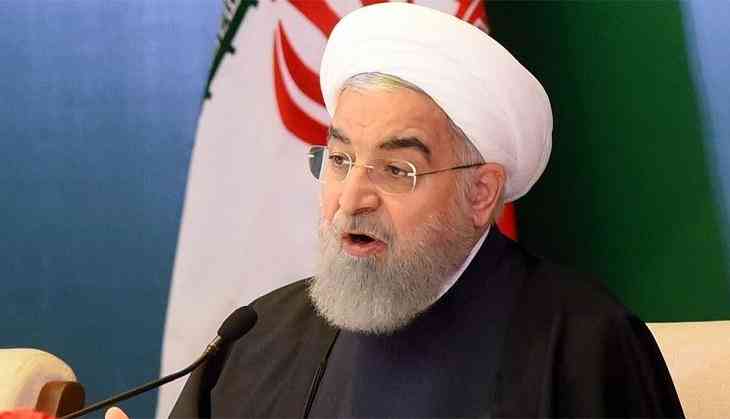 Iranian President Hassan Rouhani on Tuesday lashed out at the sanctions reinstated by the Donald Trump-led United States administration, saying that they amounted to "economic terrorism" and "economic war", while speaking at the ongoing 73rd session of the United Nations General Assembly (UNGA).
"Unlawful unilateral sanctions in themselves constitute a form of economic terrorism and a breach of the 'Right to Development'. The economic war that the United States has initiated under the rubric of new sanctions not only targets the Iranian people but also entails harmful repercussions for the people of other countries, and that war has caused a disruption in the state of global trade," The Hill quoted Rouhani, as saying.

"We are pleased that the international community did not acquiesce to the US government's unilateral and illegal withdrawal from the JCPOA ... If you dislike the JCPOA because it is the legacy of your domestic political rivals, then we invite you to come back to the Security Council resolution. We invite you to remain in the international institutions. Do not engage in imposing sanctions," he further said.
Trump, in his speech at the UNGA, took a jibe at Iran and re-established the sanctions, scheduled to be put back in place in early November.
He also dismissed reports which stated that he would meet Rouhani on the sidelines of the UNGA.
More sanctions will be imposed on Iran in November, including barring Iran's sale of crude oil and transactions with its Central Bank, the report highlighted.
In order to protect European companies from any penalties imposed by the United States for doing business with or in Iran, EU has updated a blocking statute.
In 2015, six countries - Iran, US, Britain, Germany, Russia, France, and China- signed the Iran nuclear deal, for lifting economic sanctions on Tehran in exchange for limitations to the country's nuclear programme.
However, Trump announced the US' withdrawal from the Joint Comprehensive Plan of Action (JCPOA) or the Iran nuclear deal in May, which limited the country's uranium enrichment in exchange for sanctions relief.
Calling the accord as an "embarrassment" that was "defective at its core", the US President then warned of severe consequences if Iran resumed its nuclear programme.
(ANI)