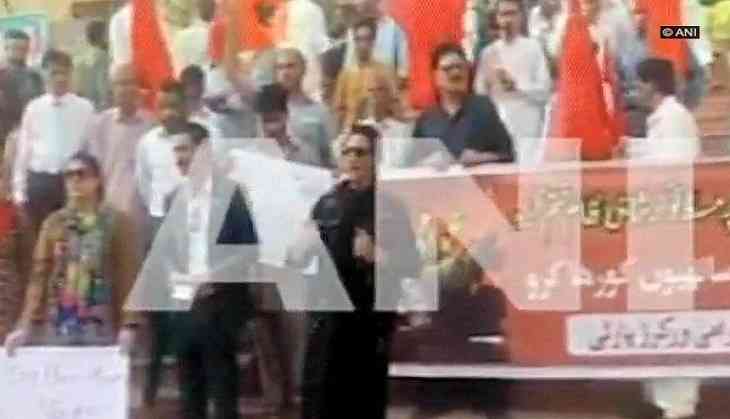 An international conspiracy is behind constructing the China-Pakistan Economic Corridor (CPEC) to benefit Central Asian countries and Pakistan's four provinces, a Gilgit-Baltistan activist said.
Expressing anger, the activist said, "We are against the system under which the so-called Gilgit Baltistan Assembly has imprisoned Baba Jan. Baba Jan has been arrested under the Pakistan's Anti-Terrorism Act.
"Gilgit-Baltistan has no credibility or authority at the national as well as in the International level," he added.
"They are also sabotaging the ground reality of Baltistan (i.e. GB is not a part of Pakistan)," the protester said.
Apparently attacking China, a protester said, "There is an international conspiracy to bring benefit to Central Asian countries and the four provinces of Pakistan through the China-Pakistan Economic Corridor."
"There are 52 projects underway under the China Pakistan Economic Corridor (and) no single person from Gilgit -Baltistan is involved in these projects. Rather persons from Punjab are being given employment in these projects," the protester said.
"The construction in Gilgit-Baltistan is against the Simla Agreement (or Shimla Agreement) which was signed between India and Pakistan on 2 July 1972 ," the protester said.
Demanding the release of Baba Jan, a leading political figure, who questioned Pakistan's occupation of Kashmir, the activist said, "The atrocities are committed by the Pakistani regime against people of Gilgit Baltistan and Political activists, religious persons and students of Pakistan-occupied Gilgit Baltistan (PoGB)are arrested under the Anti-Terrorist Act, also known as Schedule 4 .
He also opposed Pakistan's move to declare Gilgit Baltistan as its fifth province and appealed the people of the region to join them against the state's oppressive policies.
-ANI