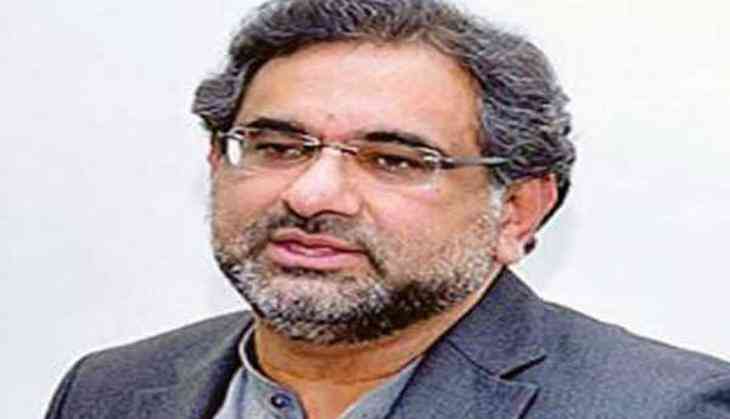 Pakistan Muslim League-Nawaz (PNL-N) leader and the country's interim Prime Ministerial candidate Shahid Khaqan Abbasi is facing a Rs. 220 billion corruption inquiry by the National Accountability Bureau (NAB) over an illegal contract to import Liquefied Natural Gas (LNG).
Abbasi, who served as Minister for Petroleum and Natural Resources, is the principal accused in an NAB case registered in 2015, regarding an LNG import contract, reports the Dawn.
Pakistan's Former petroleum secretary Abid Saeed, Inter State Gas Systems (ISGS) managing director Mobin Saulut, private firm Engro's chief executive officer Emranul Haq and the Sui Southern Gas Company's (SSGC) ex-MD Zuhair Ahmed Siddiqui are the other suspects in the case.
According to NAB documents, the contract for the LNG import and distribution was awarded to the Elengy Terminal, a subsidiary of Engro, in 2013, in violation of the Public Procurement Regulatory Authority (PPRA) rules and relevant laws.
The LNG contract case, which was registered in 2015 by the NAB on the complaint of Shahid Sattar, an energy expert and former member of the Planning Commission and the SSGC board of directors, along with others, is still under investigation, contrary to NAB Chairman Qamar Zaman Chaudhry's claim that he has introduced a new strategy under which the process of complaint verification, inquiry, investigation and filing of reference took 10 months.
According to reports, the NAB had recommended that the names of all accused in the case, including Abbasi, to be placed on the Exit Control List (ECL).
The Pakistan Muslim League - Nawaz (PML-N), following the disqualification of Nawaz Sharif by the Supreme Court in the Panama Papers case, nominated Abbasi as its candidate for the post of prime minister, post for an interim period, before Punjab Chief Minister Shahbaz Sharif replaces him for the remaining 10 months of the government's term.
Abbasi was named as interim Prime Minister Candidate until Shahbaz is elected to the Parliament.
He is set to be elected in view of his party's comprehensive majority in the National Assembly.
The leader has been accused of misusing his authority and causing a potential loss of USD 2 billion to the national exchequer in 15 years.
Abbasi on Sunday dismissed the allegations of possessing illegal wealth and challenged his critics to prove irregularities in his finances.
Speaking to the media after meeting with Jamiat Ulema-i-Islam-Fazl (JUI-F) chief Maulana Fazlur Rehman, Abbasi said, "Whoever wants to file a reference against me should feel free to do so."
Abbasi informed that he has disclosed all his assets and their details are published in the Pakistan Gazette.
Dismissing the allegations against him as baseless, he suggested his critics to 'check their own acts first'.