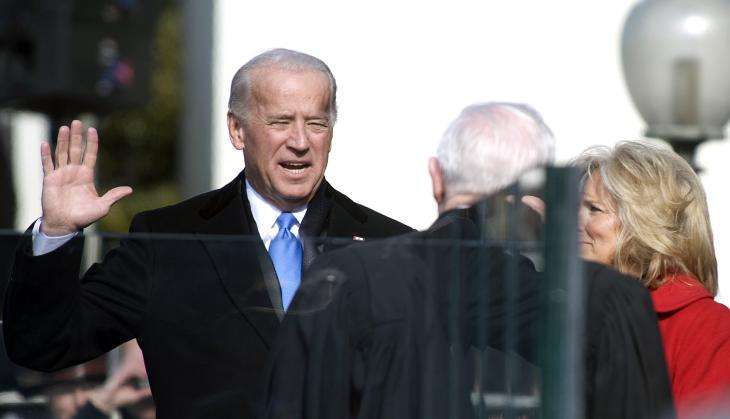 Vice President Joe Biden, on 17 November, describing the contribution of the Indian-American community as breathtaking, has warned that any effort to stop the flow of immigrants to the US would end the incredible American experience.
"The amazing contribution of the Indian-American community is breathtaking because many of you and your friends came here not out of some sense of... the diaspora that ended up in Delaware were the most educated people when they arrived in America. As a matter of fact they made it hard for other people," Biden said at the Diwali reception held at his residence.
"The day we shut things down, the day we cut these out, the day we decide to go back ... that is happening now, that's getting to the end of this great incredible experiment," he said.
Organised in association with Indiaspora, it was attended by some top Indian-American leaders and several current and past members of his Administration from this community.
"You are incredible group of Americans," he said welcoming the guests as he commended Diwali as celebration that opens its arms to people of all faiths.
In his remarks, Biden congratulated three new Indian-Americans elected to the House of Representative on 8 November - Pramila Jayapal (from Washington State), Raja Krishnamoorthi (from Illinois) and Ro Khanna (from California).
The Gold Star father Khizr Khan and his wife Ghazala Khan were the special invitees for the event.
Biden praised Khan for taking a strong stand against religious hatred during the general elections, he appealed to the attendees not to be disappointed by the results of the election.
"This is America...This is kind of who we are," Biden said referring to Khan. "You reminded millions of Americans why there is hope and faith. I will say you that the fact that the other team won does not mean that that was rejected," Biden said.
"We lost because of awful lot of hardworking Americans who live in areas where we did not pay much attention to. Barack Obama won these people. They are not racist. They did not vote for the Democrats this time," he said.
Biden identified globalisation as among one of the key reasons for the Democratic party defeat. Globalisation, despite all its advantages, hurt people in the US.
"I do not want anybody to walk away thinking that you know because Donald Trump says some awful things... He is the most unpopular elected President in American history. Just as Hillary was very unpopular. There has been no election in American history when the negatives of both the candidates have been this high," Biden said.
"I do not care what your political affiliation is we have to not give up. One election will not change America," he added.
--PTI