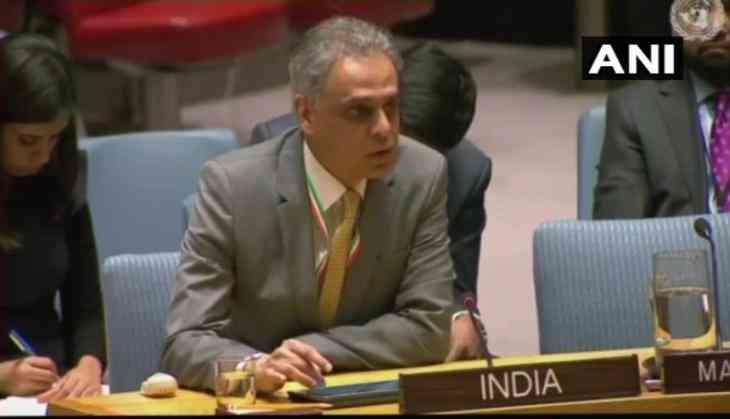 India on 8 March slammed Pakistan for supporting terrorism and said that challenges posed by cross-border terrorism emanating from safe havens and sanctuaries to Afghanistan and other regions should be addressed soon.
Speaking at the United Nations Security Council (UNSC) meeting here, India's Permanent Representative to the UN, Syed Akbaruddin said, "There are still those who provide sanctuaries to support the dark agendas of terrorist organisations like the Taliban, Haqqani Network, ISIS (Islamic State), Al-Qaeda, LeT (Lashkar-e-Taiba) and JeM (Jaish-e-Mohammed)."
Akbaruddin added that India welcomed the UNSC's focus on linkages between terrorism, extremism, drug peddling and illegal exploitations of natural resources in Afghanistan.
He further stressed that the transnational networks of crime, drugs and terrorism had to be dealt hardly.
Hailing Afghanistan's decision of initiating a new peace plan to the Taliban to end violence, Akbaruddin stated, "The Afghan Government issued a new call for peace and proposed a concrete approach to the Taliban to join the mainstream. These efforts by the Afghan Government persuading the Taliban on ending violence and joining the reconciliation process are welcomed."
"It should be clear to the armed opposition that there would be no tolerance for those who continue violence. Any violence needs a robust response. The irreconcilable guns need to be silenced," he added.
India on Thursday highlighted human rights violations by Pakistan at the United Nations Human Rights Council (UNHRC) in New York.
This response came after Pakistan raised the issue of human rights violations in Jammu and Kashmir.
Mini Devi Kumam, Second Secretary, India's Permanent Mission at UNHRC, said it had become a habit of Pakistan to misuse the UNHRC platform to make misleading references about internal matters pertaining to Jammu and Kashmir.
She added that "Pakistan has long been attempting to mask its territorial ambitions and use of terrorism as a state policy under the guise of concern for human rights".
-ANI