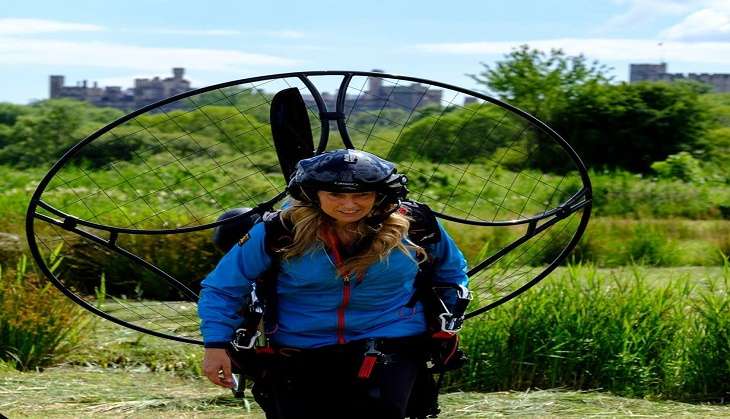 Sacha Dench, 41, a British conservationist has taken to the skies in a motorised para-glider for the start of around a 7,500 km distance between Russia and Britain to find out the reasons for diminishing number of migratory Swans who travel every year from Siberia to London.
Dench is a member of Wildfowl and Wetlands Trust (WWT ).
She will fly across 11 countries between Russia and Britain. At present, she is flying six hours daily in Russian territory. She is also making an appeal to people to help in the conservation of Swans.
Dench's unique mission, which started on 19 September, is drawing the attention of environmentalists worldwide.
Equipped with ultra modern photographic and communication equipment, Dench is getting support and information from ground staff. Her mission has been supported by Hollywood actress Judi Dench.
Sacha Dench is a former British National free Diving champion and can hold her breath under water for 6 minute 22 seconds. She has long experience of Para-motoring and Para-gliding.
After graduation, Dench started working as anthropologist in South America. During 2009, when she was working in London with WWT, she started collecting important information about wild animals. A few months ago her colleagues told her about the difficult journey undertaken annually by migratory Swans and their diminishing number every year. Dench decided to adopt a unique method of preserving the Swans and started flying with them. During these flights she observes difficulties encountered by Swans in their flight. She also wants to find out the reason for the diminishing number of migratory Swans.
The number of migratory Swans coming to Britain in 1995 was 29,000 which gradually reduced to 18,000 in 2010. Finland, Britain, Poland, Germany and other countries in 2012 resolved to work together to save the migratory Swans but conditions did not improve.
Now Dench has taken up the task of preserving the Swans. These Swans start their journey in September every year due to extreme cold in Siberia and can be seen around Lancashire, Cambridge and Severn River in Britain. In the beginning of March, these Swans fly back to Siberia.