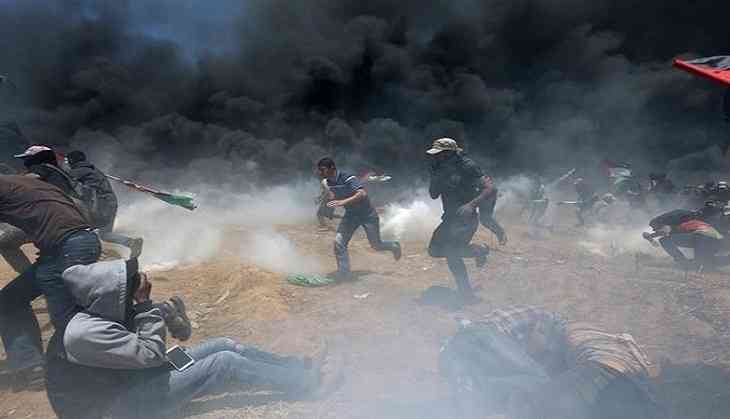 At least two Palestinians were killed by Israeli forces in Gaza Strip as part of the "right of return" march, Palestine's Health Ministry said on Friday.
The Palestinian ministry spokesman, Ashraf al-Qidra, said two persons - Mohammad Fawzi al Hamaida (24) and a 13-year-old Palestinian boy were shot dead by Israeli soldiers during the demonstrations in southern Gaza, Anadolu News Agency reported.
On June 14, a 21-year-old-Palestinian man died after he succumbed to his injuries during the clashes with Israeli troops at the Gaza border, a week after Israeli forces killed four Palestinians and wounded over 600 people.
Among the 600, around 120 were injured from live fire and tear gas.
On May 15, the Great March of Return rallies culminated to mark the anniversary of 'Nakba' or 'The Catastrophe', the forced removal of 750,000 Palestinians from their homes to clear the way for Israel's establishment in 1948.
Prior to that, a large number of Palestinians gathered to protest on the Gaza Strip's eastern border to commemorate the Nakba anniversary and protest the relocation of the US embassy from Tel Aviv to Jerusalem.
Since March 30, Israeli forces have killed at least 124 Palestinians and wounded more than 13,000 people.
(ANI)