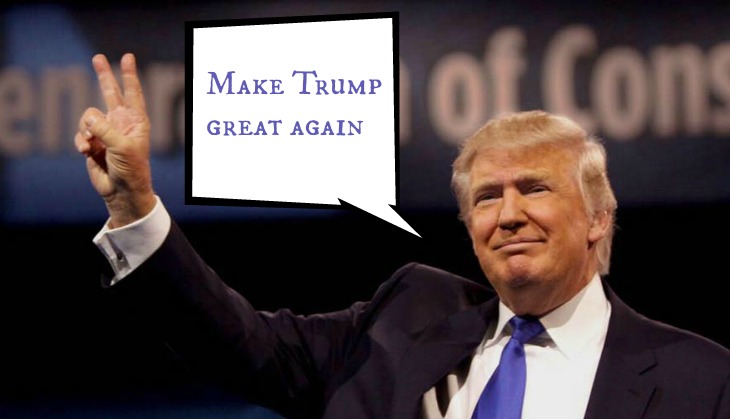 Republican frontrunner Donald Trump has now effectively moved ahead of Democratic rival Hillary Clinton, while also securing the Republican party's presidential nomination in the United States Presidential polls.
This is the first time the 69-year-old real estate tycoon has taken a clear lead - 0.2% - in the poll run-up, as proved RealClearPolitics, a polling data aggregator.
Trump has the support of 43.4% of the general election registered voters, while 68-year-old Clinton has 43.2% in average, according to RealClearPolitics.com.
Till a few weeks ago, Clinton had a double-digit lead over Trump. However, after Trump became the presumptive Republican presidential nominee early this month, the lead has gradually narrowed and Trump even won in some of the latest polls.
Over the past few days, several polls have shown Trump having a lead over Clinton.
For instance, in the latest poll of ABC News/Washington Post, Trump has a 2% lead.
In Rasmussen Reports poll, Trump leads Clinton by 5%.
The latest Fox News poll also show Trump leading by 3 points.
Analysts believe the main reason for Trump's popularity surge is that he now enjoys wider support from the Republican voters after his decisive win in Indiana earlier this month, a victory that prompted his two remaining rivals to exit the race.
Clinton leads Trump by three points in NBC News/The Wall Street Journal poll and by 6% points in CBS News/The New York Times poll.
However, senator Bernie Sanders from Vermont, who is the Democratic primary rival of Clinton, maintains a lead over Trump in these polls.
According to RealClearPolitics.com, Sanders has an average lead of 10.8% over Trump.
Notwithstanding her narrowing lead over Trump, Clinton on Sunday asserted she would be her party's presidential candidate and is now fully focused on defeating the controversial billionaire in the November elections.
"I am going to be the nominee. And I want to spend a lot of my time, as you've seen me do, really taking on Trump, because I find what he says, the kind of candidacy he's presenting, to pose a danger to our country," Clinton told NBC News.
"We know what we're going into and we understand what it's going to take to win in the fall. And finally, I would say that, you know, polls this far out mean nothing. They certainly mean nothing to me. I think if people go back and look, they really mean nothing in terms of analysing what's going to happen in the fall," she added.
--PTI