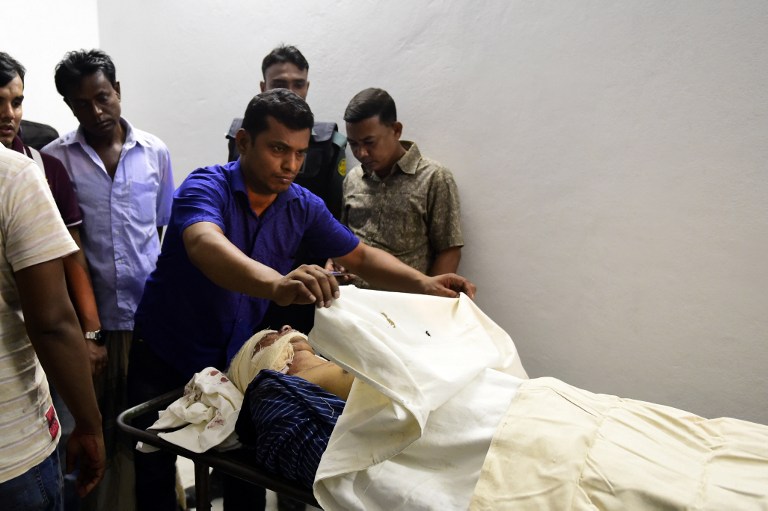 Religious extremism struck Bangladesh again in two separate attacks on 31 October.
Secular blogger Faisal Arefin Dipan, who ran the publishing house Jagriti Prokashony, was hacked to death in his office in Shahbagh on Saturday.
Earlier that day, publisher Ahmedur Rashid Tutul, who owns publishing house Shuddhaswar, was attacked in his office at Lalmatia along with writer Ranadipam Basu and blogger Tarek Rahim. The three suffered severe injuries.
"I saw him lying down in a massive pool of blood. They slit his neck. He published the books of Avijit Roy. They also attacked other publishers of Roy but only my son died" Dipan's father, Abul Kashem Fazlul Haq, who found his body, told AFP.
Both Jagriti Prokashony and Shuddhaswar had published a number of books written by Avijit Roy, who was killed in February this year by Islamist militants. Dipan had earlier informed the police about the death threats he had been receiving.
According to SITE Intelligence Group, which monitors jihadist online postings, Ansar al-Islam, the Bangladesh division of Al-Qaeda, has claimed responsibility for killing Dipan and for injuring Tutul.
Ansar al-Islam justified its wrath by holding the"secular and atheist publishers" publishers responsible of allegedly releasing books by blasphemers that dishonoured Prophet Muhammad and offended the Muslim faith. The group has threatened to carry out more attacks.
Amnesty International has called on the Bangladesh government to "act urgently" and called the attacks "a deliberate assault against freedom of expression."
The tussle between secularism, freedom of speech and religious extremism in Bangladesh since 2013 has taken the lives of nine bloggers and publishers including Saturday's attack.