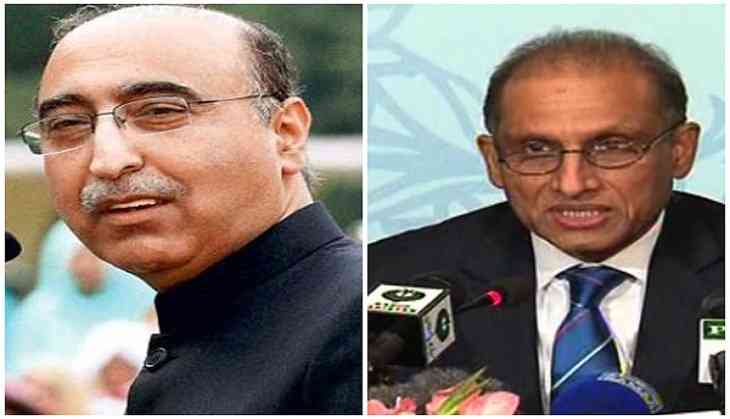 Abdul Basit says 'Pakistan's worst diplomat ever' Aizaz Ahmad Chaudhry (ANI)
Former Pakistan High Commissioner to India Abdul Basit sent an official letter to Islamabad's Ambassador to the United States Aizaz Ahmad Chaudhry, pointing out to him that he was "the worst foreign secretary ever."
The letter, sent on 25 July, 2017, was issued in reference with Chaudhry's valedictory letter (FSO-1/2017 of 12 March, 2017), as the foreign secretary and on the official letter head of Pakistan's High Commission in New Delhi.
The letter carried signatures of the former high commissioner.
"More I think the more I am convinced that you have been the worst foreign secretary ever," he wrote.
"My concern is that you would also end up being the worst Pakistan ambassador in Washington DC. The reasons are simple. First, you are not made for the delicate profession of diplomacy."
"I can cite many examples, the Ufa Joint Statement and Pakistan humiliating defeat at the Human Rights Council are sufficient to prove my point. Second and it is more worrisome, your heart is not in the right place," the letter added.
Basit, in the letter, further suggested that he "strongly feel that it is in Pakistan's interest that you should immediately be removed from Washington D.C."
"If not so, you should not be given extension beyond your superannuation on 27 February, 2018. May Allah help Pakistan when people like you with weak and dubious credentials are at such important positions," Basit concluded.
Basit also sent a copy of the letter to the Director of the Foreign Secretary's Office (FSO), Ministry of Foreign Affairs.
For the uninitiated, Abdul Basit had requested, in July, for a premature retirement from the service, as he was set to retire in April 2018.
Sohail Mahmood is now set to take charge as Pakistan's new High Commissioner to India. Earlier, he was Pakistan's ambassador to Turkey.
-ANI