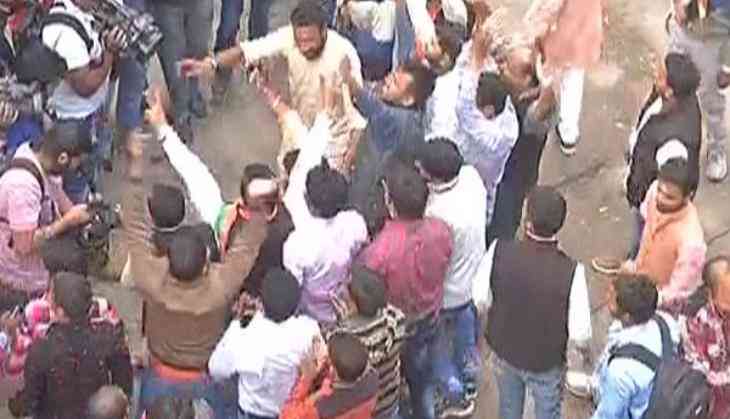 With the Bharatiya Janata Party (BJP) crossing the halfway mark in Uttar Pradesh and leading in 278 seats of the 403-member assembly, celebrations have begun and it seems the politically crucial state is all geared up for a saffron Holi this time.The BJP workers have begun celebrations in Prime Minister Narendra Modi's parliamentary constituency Varanasi and the state capital Lucknow.
The early trends clearly indicate that Uttar Pradesh has yet again voted for Prime Minister Modi, who had come under sharp criticism post the November 8 demonetisation drive.
In Prime Minister Modi's parliamentary constituency Varanasi, the BJP workers were seen dancing and celebrating outside the party office.
"Bharat Mata Ki Jai, Bharat Mata Ki Jai, Modi-Modi, Modi Zindabad," chanted the party workers as they played Holi with saffron colour and distributed sweets to the passerbys.
Similar scenes were witnessed in BJP's Lucknow office situated near the Vidhan Sabha. The BJP workers were seen dancing and celebrating, shouting slogans of "BJP Zindabad, BJP Zindabad" and "Modi Zindabad".
Meanwhile, BJP MP from Unnao, Sakshi Maharaj, insisted that the party was hopeful of a thumping win, adding this victory will act as a morale booster for them.
"With due respect to the exit polls, I want to say that the slogan which we gave this time that 'ab ki baar 300 paar ' will prove true and we are going to form the government in Uttar Pradesh with majority," Maharaj told ANI.
He also took a dig at Uttar Pradesh Chief Minister Akhilesh Yadav, saying the day he inaugurated the incomplete Agra-Lucknow Expressway and Lucknow Metro, it became clear that he would not be forming the government again.
"When Akhilesh Yadav inaugurated the incomplete Expressway and Metro that very day it became quite clear that he is not going to form a government in Uttar Pradesh. That was the first time he lost the battle. Second time, he lost it when he joined hands with the Congress Party. This simply means that even like Centre even in Uttar Pradesh there will be no strong opposition in the assembly," he added.
Meanwhile, BJP national general secretary Kailash Vijayvargiya also expressed his jubilance over the win, saying that there was no doubt in their minds about conquering the throne of Lucknow.
"We had said this earlier that we will win 200-250 seats in Uttar Pradesh. We were confident of winning the election because we had leaders like Prime Minister Narendra Modi and Amit Shah," Vijayvargiya told ANI.
He also insisted it is the BJP's team work, adding this win is a testament to the fact that the people of India impose their faith in the saffron party.
"We have raised the issue of development. Prime Minister Modi just tried to highlight the areas where the development was taking place. He just highlighted that how much development is being done in cremation ground and similarly in graveyard. This should not be considered as polarisation, nor it should not be considered as the politics on the basis of religion," he added.
BJP MP from Gorakhpur, Yogi Adityanath, told media that this win is for development and a result of hard work.
"The SP-Congress alliance has been rejected by the people. The people are fed up with the BSP and don't want them either," he added.
Uttar Pradesh went to polls in seven phases in the months of February and March.
A total of 4,854 candidates are in fray for 403 assembly constituencies.
-ANI