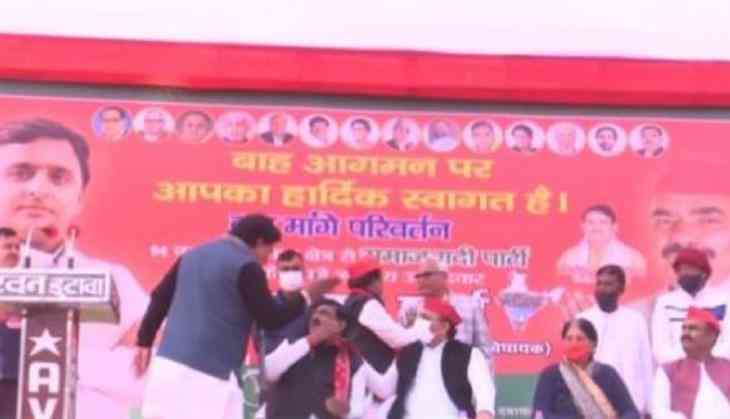 At a public meeting convened by Akhilesh Yadav led Samajwadi Party in Uttar Pradesh's Bah Assembly seat, the party's national general secretary Ramjilal Suman was spotted slapping party district president Jitendra Verma.
While Verma appeared to be appalled, Akhilesh Yadav found the entire fiasco hilarious and started laughing.
The incident happened, when Ramjilal Suman was addressing the crowd and Verma was seen speaking to party chief Akhilesh Yadav on the podium. All of a sudden, Ramjilal Suman stopped his speech midway and walked over to Verma and slapped him.
Watch The Video:
आगराः बाह विधानसभा क्षेत्र में सभा के दौरान सपा के राष्ट्रीय महासचिव और पूर्व सांसद रामजीलाल सुमन ने पार्टी जिलाध्यक्ष जितेन्द्र वर्मा को तमाचा दिखा दिया, जिससे वह सहम गए, यह देखकर अखिलेश यादव हंस पड़े और माहौल को हल्का करने का प्रयास किया pic.twitter.com/hWOrrf9EpV

— gyanendra shukla (@gyanu999) February 7, 2022
According to reports, In the time of Ramjilal Suman's speech, both Verma and Yadav were seen talking amongst themselves, much to the party general secretary's irritation.
However, the entire incident was dealt on a lighter note and everyone on the podium was seen laughing. The public meeting came to an end with Akhilesh Yadav's speech, who vowed that if his party was voted to power he would make Bah a district.
Also Read: 'Samajwadi sarkar aayegi to bharti niklegi': Akhilesh Yadav promises jobs in UP