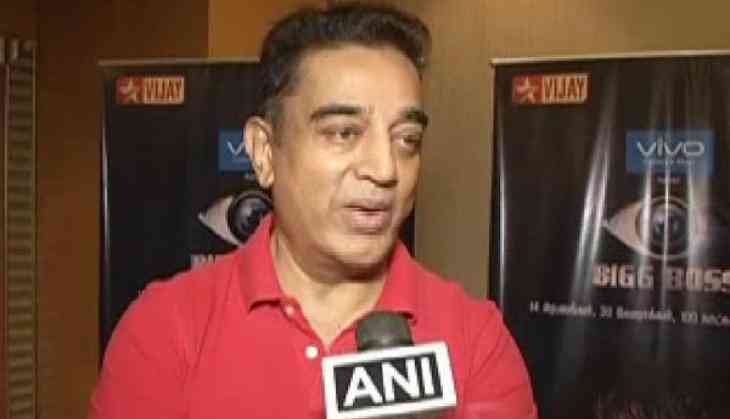 South actor Vishal, the president of Tamil Nadu film producer council, today said that the first season of 'Bigg Boss' Tamil has landed in soup because of Ulaganayagan Kamal Haasan's involvement.
While speaking to ANI, Vishal said, "Bigg Boss is a multilingual program. This problem has been created only because Kamal Haasan is involved. When Kamal is a part of any show, he will definitely looks into all aspects as he is the pride of Tamil Nadu."
For the unversed, the Hindu Makkal Katchi, a nationalistic Hindu party in Tamil Nadu, on Wednesday, demanded ban on the Tamil version of reality show and wanted its host to be arrested for tarnishing Tamil culture.
The HMK also complained that the contestants' portrayal in the show is a statement of disrespect towards the Tamil values.
The complaint, filed with the Chennai Commissioner, seeks arrest of the 'Chachi 420' actor, followed by an arrest of all the 14 participants of the show, for tarnishing the reputation of the State and its culture.
According to the HMK, this show is responsible for segregating the Indian people and deteriorating the sense of cultural values among the Indians. They claim that the show depicts obscene content and the contestants roam around in the house in an indecent way, leading to profanity.
Their accusation further stated that for the Tamil people, 'Tamil Thai Vazhthu' (Invocation to Mother Tamil) is the most crucial thing and is more precious than the inner spirit. Hence, such a program mocks the state and its people.
Further speaking about Malayalam actor Dileep's arrest in regard to abduction and assault case of the south actress, Vishal said, "The law has taken its course, definitely this should happened to Bhavana. We will stand with all the women who are part if the industry."
Finally, he shared his thoughts on the much talked about topic- double taxation in the Kollywood industry, and said, "The first meeting has happened. Next meeting would be the final one. We have clearly explained if the local tax is levied, it will be difficult for the industry to survive. Last meeting on 24 of this month would bring a solution to this issue."
-ANI