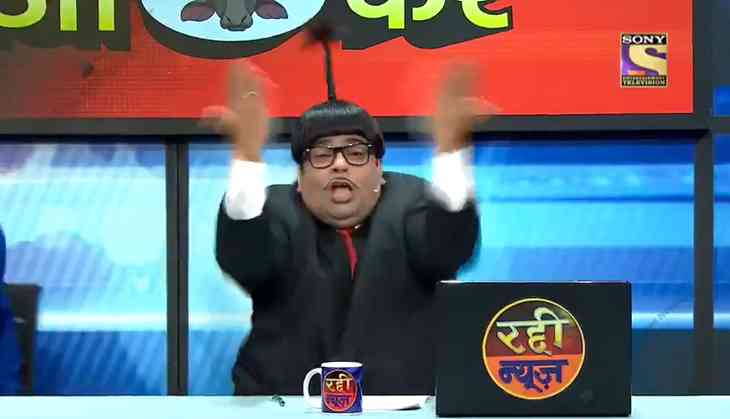 Amid the ongoing debate over late actor Sushant Singh Rajput's death mystery, The Kapil Sharma Show mocked the news show format in the last episode.
The act was performed by Kiku Sharda which has not gone down well with the viewers and the fans of the late actor.
There was a segment in TKSS named 'Raddi News' which was hosted by Bacha Yadav aka Kiku Sharda and Sapna alias Krushna Abhishek.
In the segment last night, Kiku mimicked a journalist, who is covering the news related to the late actor's death case and drug nexus in Bollywood.
During the act, Kiku made fun of the journalist by shouting for insignificant issues. He also shouted, "Mujhe Jug Do' desperately. He then went on to accuse others of trying to stop him from expressing his views and curtailing the freedom of speech. Later, Kapil Sharma also joined the act as Navjot Singh Sidhu.
Breaking news! Iss baar mazzedar mehfil chayegi, jab aayenge bollywood ke 2 superstars aur real life close friends Anubhav Sinha aur Manoj Bajpayee #TheKapilSharmaShow mein iss Sun raat 9:30 baje. @KapilSharmaK9 @kikusharda @Krushna_KAS @bharti_lalli @sumona24 @banijayasia pic.twitter.com/OWeEvtVBHb

— sonytv (@SonyTV) October 4, 2020

The act has entertained the Kapil Sharma show's guests Manoj Bajpai, Anubhav Sinha, and the show's judge Archana Puran Singh. But, the act was not digested by the netizens and they slammed the show and started the trend "BoycottKapilSharmaShow.
Have a look at the comments:
Shame on u @KapilSharmaK9
U guys hesitate to raise voice fr sushant , but are very keen on making fun of those who do
Shame on u
WTH is this ?
He belonged to ur industry and he was murdered !
This is how u mock all our fight ?

— prathiksha (@prathikshakpai) October 4, 2020
Kapil sir we respect u alot nd love u bt plz apne show me media ko mt ghseeto hm smjh rhe h kiku ji kiski copy KR rhe h but plz sir stay away from it ye case logo k emotions se juda h

— shushant ❤️ ankita (@Vandna09414676) October 4, 2020
Making fun of a person fighting for justice? And supporting these druggie actors? Is this how @KapilSharmaK9 wants to project himself? Bhai ne bola kya?

— Ashish (@Ashish_Mukhija8) October 4, 2020
सलमान के एजेंडे पे काम करता है।
Sony tv, colours tv को अपने tv लिस्ट से सब हटायेंगे तब जाकर इनकी अक्ल ठिकाने लगेगी।

— Manoj Shah T.A.B.🇮🇳 (@shahmk42) October 5, 2020
We all Indian Thukta hai for such comedy of a true & brave reporter!We always proud for truth not for those people who wants save Drugist & drugs peddler.Shame to Sony channel & Kapil for showing so cheap program .only because they want money from their producers.shame !🇮🇳🇮🇳

— NeelAg (@ag_neel) October 4, 2020
Well done, let these people know they can't take us for granted. What was done today was in poor taste #BoycottKapilSharmaShow

— 🦋Priya Bakshi 🦋 (@Bakshi4ever) October 4, 2020
In the Sunday episode, Kapil Sharma's guests were Manoj Bajpai and Anubhav Sinha.
During the show, Anubhav Sinha revealed how Manoj's fee had once been deducted due to his fewer dialogues in the film. On this fun fact of Sinha, Kapil poked fun at Archana who's paid for laughing.
Also Read: The Kapil Sharma Show: Navjot Singh Sidhu makes a comeback, asks Sapna aka Krushna to hit Archana with a brick [WATCH]