A white-collared senior manager (Amol Palekar who once epitomised the urban office-goer in 1970s films such as Chhoti Si Baat, Baaton Baaton Mein and Golmaal) is apprehensive about his wife's disapproval of a gift he has purchased for her from Flipkart. Amol smiles wanly only after being reassured by his obsequious junior (an expressive Namit Das) that the online company will swiftly change the gift for him if required.
Amol Palekar is 72-years-old.
A last piece of chocolate is lying on the family dining table. Father, mother, son and daughter are eyeing the piece and hotly debating who deserves to eat it. The grandma (Waheeda Rehman, leading lady of classics like Pyaasa, Guide) makes a grab for the chocolate and quickly pops it into her mouth. She sees the despair on everyone's faces and chuckles after gobbling the piece, "Pata nahin ab meri kismet mein kitne Dairy milk chocolate likhe hain," to justify her action. The indulgent family breaks into laughs.
Waheeda Rehman is 78-years-old.
In a TV commercial for Surf Excel Easy Wash, a child arduously polishes the shoes his grandpa (veteran actor Ramesh Deo of Anand and Saraswatichandra fame) is going to wear but ends up soiling his own shirt. The delighted white-haired grandpa gleefully extols, "Arrey isske haathon ne toh kamal kar diya."
Grandma (Vidya Sinha, popular heroine of Rajnigandha, Inkaar) smiles, and, unaware that her daughter-in-law has the detergent on her side, chimes in with: "Par tumhare haathon ka kaam toh badha diya."
Ramesh Deo is 87-years-old while Vidya is 68-years-old.
A white-haired lady with a bindi (Shubha Khote, veteran comedienne who once made a super successful team with Mehmood and Dhumal), sips on a packet of Amul buttermilk, the desirefresher, while wryly ruing about the good old days when buttermilk was made by hand. However, even as she kvetches about it being sold in a packet now, the taste grows on her ... and she is bewitched with her drink.
Shubha Khote is 76-years-old.
In a similar vein, the kittenish hottie of Bollywood's Golden Era , Helen (Gumnaam, Caravan,Sholay) plays a cute grandma who wistfully reminisces to her grandchildren about the days when oranges were cooled in a river... but is soon bowled over by an instant mix, Tang orange juice.
Helen is 78-years-old.
Fellow hottie from the swinging sixties, Sharmila Tagore (popular dimpled actress of countless Hindi and Bengali films) also appears in a domesticated role in the Shree Tulsi ads in which she extols the product along with her screen and real-life daughter Soha Ali Khan.
She is now 71-years-old, and the very personification of grace.
And Hema Malini looks simply stunning while recommending purified water in a Kent Ro water purifier ad.
The diva is 67-years-old.
Golden girls and boys of Hindi films, despite the silver streaks in their hair, are enjoying an unprecedented and unparalleled run with ad filmmakers. We may be surprised but the veterans are not.
Shubha Khote says in her famously matter of fact tone, "These ads need old people and so they feature us. It's fine." She has featured in as many as three ads in the last six months (!) and though she says, "I don't understand some of the editing patterns in recent ads," she feels "happy at the response they have elicited".
These actors are clearly delighted to be given the chance to prolong their passion for acting and feel that a creative person never really retires. Vidya Sinha reasons, "An artiste can act even at the age of 90. Besides, now, even films are coming up with roles for senior actors, just like in Hollywood."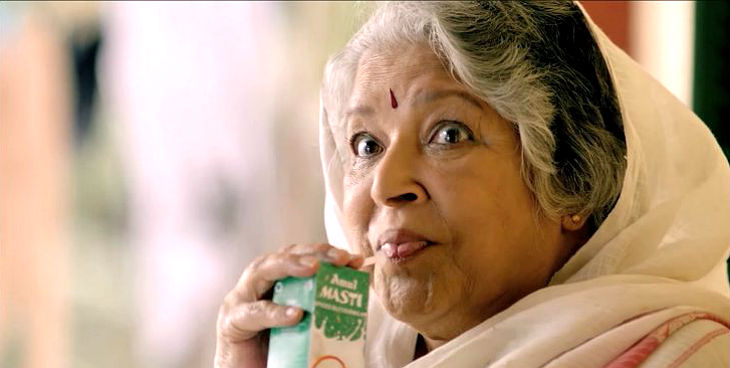 Shobha Khote in an ad of Amul Buttermilk (YouTube screen grab)
Ramesh Deo, the octogenarian with a disarming smile, asserts: "I feel very good that I am getting ads and working with youngsters."
The income from these commercials is also an added and welcome attraction. Besides the recognition, Ramesh candidly admits that he does the ads for the remuneration because he feels money runs out unless refilled. And it's respectable work, because Ramesh Deo says he feels the small screen has attained an equal status with the big screen today with stars of the caliber of Amitabh, Salman and Shah Rukh venturing into the arena.
Vidya says films pay much more but working in serials and ads is enjoyable nonetheless. Shubha trills, "I take an ad when it is worth my while as a performer."
All three of them echo 'yes' when asked if they would like to do more ads. Ramesh Deo likes doing ads because he has had firsthand experience that out of sight is out of mind. He recalls with a tinge of sadness, "Recently, I did a movie but I did not get my due respect. Respect keeps fading with time so I enjoy doing ads."
And for the audience and their co-actors, it is still enjoyable to see them and feel a frisson of recognition and appreciation. Namit Das, the much younger co-star of Amol Palekar, says, "It was a pleasure to work with the veteran actor. He did so many rehearsals with me and was extremely good to me. He even recalled meeting me as the actor of 'Hamlet -- The Clown Prince,' which we had performed at one of the annual theatre festivals he held many years ago." Namit feels that there is a lot to learn from senior actors and they add to the appeal of ads.
The desire to commune with the camera remains strong for these golden aged artistes ... and ads provide but just one more avenue to display their time- honoured skills.
-- Sourced from Dinesh Raheja, with inputs by Sneha Gupta (Bollywood News Service)