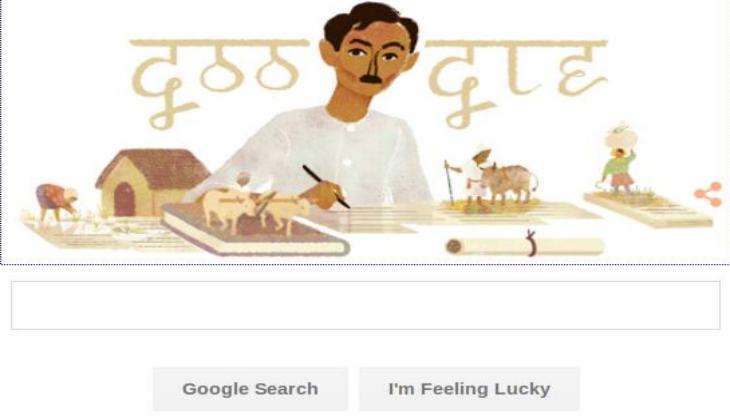 Google dedicated its 31 July doodle to mark the 136th birth anniversary of acclaimed novelist Munshi Premchand.
"Today's homepage celebrates a man who filled many pages (of a different kind) with words that would forever change India's literary landscape," said the search engine.
"Although much of it was fiction, Premchand's writing often incorporated realistic settings and events, a style he pioneered within Hindi literature," Google said.
"His last and most famous novel, Godaan (1936), inspired the doodle, which shows Premchand (sometimes referred to as "Upanyas Samrat," or, "emperor among novelists") bringing his signature working-class characters to life. On what would have been his 136th birthday, the illustration pays tribute to the multitude of important stories he told," the description to the Google doodle reads.
Here are eight interesting facts about the 'Upanyas Samrat':
Born Dhanpat Rai in a small village near Varanasi in 1880, the renowned author started writing at the age of 13.
Many of his early works are in Urdu. His began writing in Hindi in 1914, with his first short story, Saut, being unveiled in 1915.
He began writing under the pen name of Nawab Rai before switching to Premchand. He produced more than a dozen novels, 250 short stories, and a number of essays, many under the pen name Premchand.
Munshi Premchand worked as a teacher in a government district school in Baharaich. He quit his teaching job to join the non-cooperation movement in 1920.
His works are believed to have been largely influenced by Mahatma Gandhi and the non-cooperation movement.
His 1924 short story Shatranj Ke Khiladi (The Chess Players) was made into a film. The 1977 Satyajit Ray-directorial, starring Sanjeev Kumar, Shabana Azmi, Farida Jalal, Farooq Shaikh, among others, was narrated by Amitabh Bachchan. It won the National Film Award for Best Feature Film in Hindi that year.
Not many know that Premchand also wrote the script for the film Majdoor.
His work Godaan is considered one of the greatest Hindustani novels of modern Indian literature. The book was later translated into English and also made into a Hindi film in 1963.