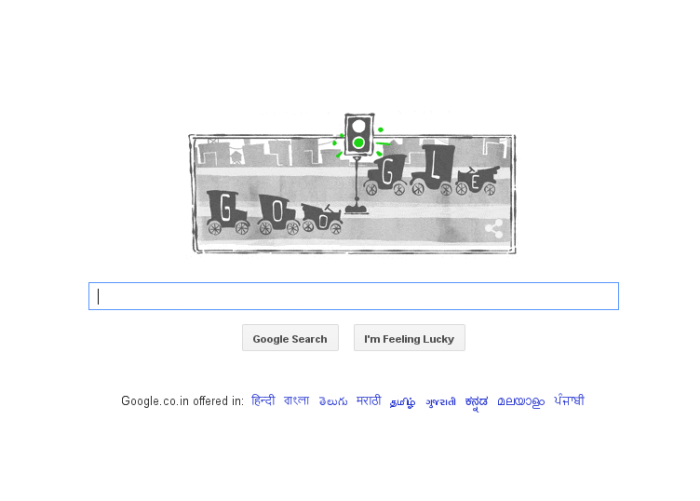 Did you see it? If not yet, then just type www.google.com and press Enter. What you will see next will take you by surprise. Google, today, honours the installation of first ever electric traffic lights 100 years ago.
The first ever traffic light was put up in London in the late 19th century and were put of just outside the Houses of Parliament.
How did it non-electric traffic lights work?
Well, it is clear that the technology back then was not in its best shape as it is currently. The first ever traffic light was non-electric and needed manpower to be operated. The lights had to be worked by hand in order to control vehicles crossing the Bridge Street, Great George Street and Parliament Street.
The project did not survive for long and suffered from a breakdown in 1869 due to leak in gas pipelines which resulted in an explosion.
The police officer operating the lights was seriously injured.
The era of electric traffic lights
After a span of more than 30 years, an American enjoyed much success with electronic traffic lights which used a similar method of -- red and green-- modern traffic lights.
In 1912, Lester Wire, a former detective in Salt Lake City, came up with a brilliant idea and right after that electric traffic lights became a routine view in America.
The lights received some upgrade when bells were added to them in order to alert motorists when the lights were just about to change. Later, these were replaced with amber lights as we see in the modern traffic light system.
The countdown system to traffic lights was introduced in 1990, which allowed pedestrians to make sharp judgement whether to cross the roads or not before the lights turn red.
In 1998, French sculptor Pierre Vivant in 1998, installed the most impressive traffic light system which consisted of an eight metre tall tree which had 75 sets of lights and it eventually, became a hot tourist destination in London.
Over the time, traffic light systems have become highly sophisticated with different lighting systems for trams, bikes and cars.