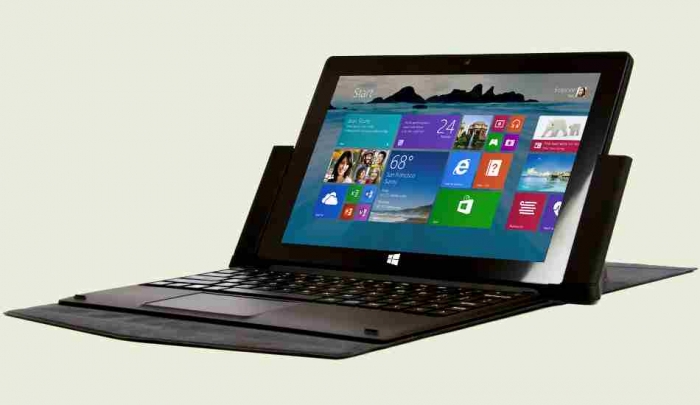 Mumbai-based GlobalSpace Technologies launched India's first 3 in 1 Tablet 'SOLT' on online shopping portals, such as Snapdeal and Amazon.
True solution-oriented device is efficient in working as a tablet, laptop and a desktop when plugged into the dock.
Priced at Rs19,450, the device is supported by Intel and Microsoft, which comes with 4 USB ports, an RJ 45 jack, speakers and an optional 500GB SATA HDD, giving it an edge over other products.
Founder Director, GlobalSpace Technologies, Krishna Singh said "SOLT was conceived by our team, which ensured whether it is the inbuilt anti-theft mechanism to provide absolute security of your data or the next generation service capability provided via an app, SOLT has it all. It is a plug and play 3 in 1 Tablet in any format - tablet, laptop or as a desktop."
SOLT also comes with a one year free device Insurance provided by Oriental Insurance. A 10.1-inch IPS Panel HD display, SOLT offers a resolution of 1280x800 pixels with an Intel BayTrail powered by 1.8 GHz quad-core processor (Z3735G). The device also supports a 7900 mAh battery that offers 8-10 hours and 60-72 hours in standby mode.
SOLT also offers a full-featured keyboard with magnetic dock that keeps the tablet safe. The keyboard has a large touchpad with dedicated left and right click buttons. It is also featured to support USB flash drive, hard drive, mouse, HDMI for connecting projectors and a 3.5mm audio jack for connecting sound systems.
Offering unmatched hardware specifications, SOLT also offers the customers MySOLT app that can be downloaded from Windows or Android store on the user's smart phone.
The App provides a large referral section that helps in answering everyday device questions so that the user spends more time doing work and less time worrying about their device.
With features so different, the makers believe that SOLT is truly a multi functional device with unmatched hardware specifications and whole bunch of apps, which takes away the pain of users and provides them friendly interface.
-ANI