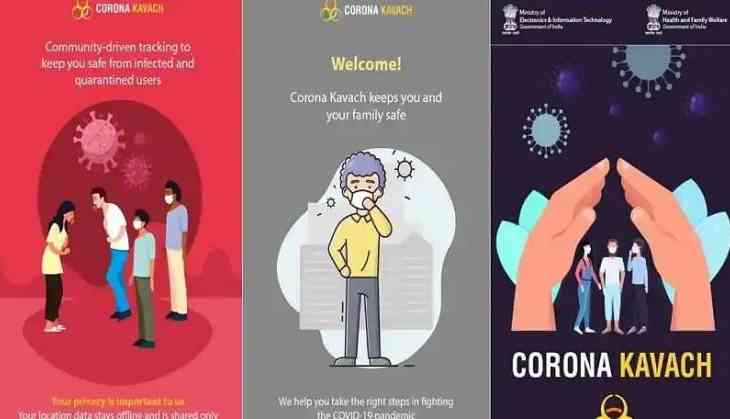 The Indian governmant has released a Covid-19 tracking app called 'Corona Kavach'. Jointly brought into existence by the Ministry of Electronics and Information Technology and the Ministry of Health and Family Welfare. Currently in its beta stage, the app is still a work underway as it ceashed a few times while we were testing it, and also had a lot of issues trying to generate OTP to log in.
The intent however, is to use a person's smartphone data to trace their location and caution if they are expose to danger of contracting coronavirus. According to official report, the app targets to put up information about Covid-19 and take information. It is only available for Android.
The process it is expected to function is simple, first you fill a form with questions like. Do you have any difficulty breathing, what your temperature is, if you've returned from a foreign country, whether you're feeling a body ache, if you have a dry cough or sore throat, and finally, if you've met anyone from a foreign country.
Based on these questions, the app sort you into different brackets – from code green, all fine, to orange, for see a doctor, yellow for quarantinea and red for infected. After that, anytime you step outside the house, you can activate the kavach, tracking your movement for an hour. If someone else has the app, and has flagged themselves as infected or quarantine, and you come close to that person, the app will send you a warning.
For this app to work to its full potential, it will require an extraordinary cooperation from the people. The aim is theat enough people will use this app and voluntarily notify the government about their infected status, and also be sure to turn it on whenever they go out.
How to use it:
1) Upon opening the Corona Kavach app, it shows a screen which says that app has been developed by MeitY and MHFW.
2) You can read the next few screens, and then the app asks for permissions to track your location, and to access files on your device, and then finally, it asks you to register with a one time password sent to your mobile.
3) From the homepage, you can get few information about the number of people infected, the number of people cured, and the number of deaths. You can also go into the menu, and fill in the questionnaire so it knows your status.
4) Clicking the Corona Kavach logo will start the one-hour countdown, which is how long the app will track your location.
5) In case you come into contact with someone else who has set their status to infected, the app is supposed to send an alert, but otherwise, that's all you need to know about how to use the app.
Also Read: Coronavirus lockdown: Yogi govt arranges 1000 buses for stranded migrant workers
Also Read: RBI allows 3-month moratorium on loans, EMI amid disruption caused by coronavirus outbreak