Oldies in ODIs a 'regressive' move? Yuvraj and Dhoni hit that thought for six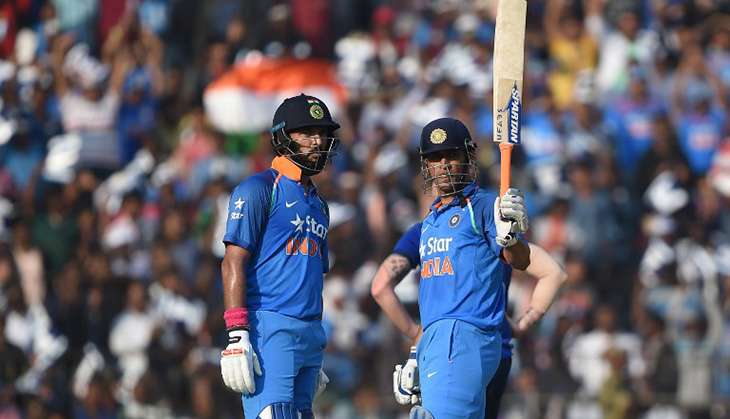 Be honest. Hand on heart. Were you surprised when the 35-year-old Yuvraj Singh was recalled to the Indian ODI team for the three-match series against England?
Did you, like many experts, feel that it was a 'regressive' move, since so many youngsters had done so well since he played his last ODI in December 2013?
And, if you answered yes to both these questions, did you watch what he did in Cuttack on Thursday?
A crisis situation
India are struggling at 25/3. Chris Woakes has taken three wickets, including the biggest one in international cricket - that of Virat Kohli.
Then comes a 256-run stand between two relics of an era gone by, with a combined age of 70 years.
One, whose recall was labelled a regressive move.
The other, who recently gave up captaincy after nearly 10 years at the helm, and has nothing left to prove to anyone about his prowess with the bat or the wicketkeeping gloves.
The left-handed relic scores 150. The right-handed one scores 134.
Their partnership not only lifts the Indian batting line-up out of the hole it had dug itself into, but actually helps take India to 381/6 - a Himalayan first-innings score even in today's ODI cricket.
It is rumoured that the reason Yuvraj wasn't in the team over the last few years was because MS Dhoni didn't want him. It is also rumoured that his return was at the behest of new captain Kohli. Another reason cited is that the selectors couldn't ignore his recent form in domestic cricket.
If this was Kohli's doing, hats off to him. If it was the selectors, hats off to them.
Because with form and injury issues affecting two of India's ODI mainstays in Ajinkya Rahane and Rohit Sharma, the batting line-up needed an injection of class. And boy, did Yuvraj stand up to be counted.
Poetry in motion
Yuvraj scored a career-best 150 off 127 balls. At the age of 35 years and 38 days. He stroked 21 boundaries and three sixes, in what was his first century since his Player of the Tournament-winning exploits at the 2011 ICC World Cup.
There were boundaries after exquisitely-timed boundaries. There was a sublime check-drive down the ground. There were the cover drives, the pulls...
And the timing... Oh, the timing!
No one in the world looks as out of place as Yuvraj when his timing is off.
No one looks more sublime (except probably AB de Villiers) when the timing is right.
Yuvraj loves England. Some of his top ODI knocks have been against the men from the country that invented the game. And then, of course, there were the six sixes in an over he hit in Durban against Stuart Broad at the World Twenty20 in 2007.
Some of the shots he played on Thursday were reminiscent of those knocks. He also seemed to be at peak fitness in running between the wickets - something he hasn't been able to achieve since his battle with cancer back in 2011.
The Yuvraj one saw on Thursday is poetry in motion. It's what makes the child inside every cricket fan come alive with anticipation and excitement. It's the game reduced to its bare bones - a talented batsman stroking the ball through the gaps and over the top, scoring runs at a fair clip.
Back to basics
At the other end, there was that old warhorse, who had just given up the leadership role and rejoined the rank and file.
Just before this ODI series, there was a warm-up game where MS Dhoni led a team for (possibly) the last time in his career. It was at the Brabourne Stadium in Mumbai, and his India 'A' side lost.
After the game, Yuvraj took a video-selfie with Dhoni. He quizzed him on if not being captain anymore meant he would play freely again.
The answer was there for all to see. Dhoni started slow, but smashed 10 fours and six sixes on his way to a 122-ball 134. It was vintage Dhoni - the kind one hasn't seen enough of in the last few years. In fact, it had been more than three years since Dhoni had hit an ODI century.
But on this day, at the Barabati Stadium, it all came together. Two men, born five months apart in 1981, showed their much-younger teammates how it was done.
What does the future hold?
Obviously, the question on cricket fans' minds will be if they can make it last till the next ODI World Cup in 2019. Maybe, maybe not.
But at least on this day in Cuttack, age was just a number.
It was a fitting reply from two ageing veterans to the advocates of inexperienced youth - sometimes, your grizzled veterans can do a better job than the greenhorns. Age is not the only criterion for selection - form and experience are equally, if not more, important.