Iran National Anthem Controversy: England beat Iran 6-2, football takes back seat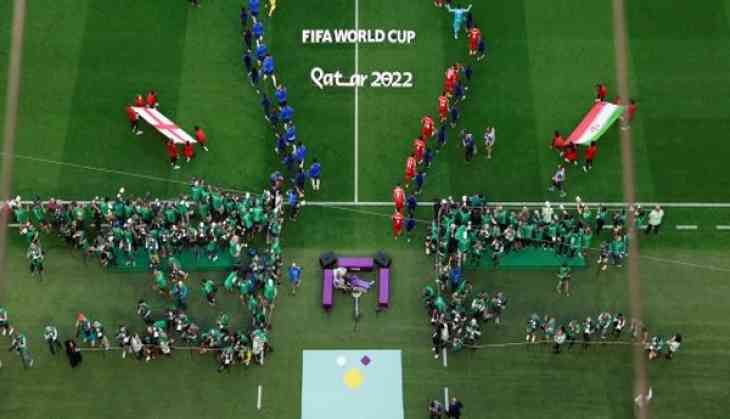 Iran players appeared to have scored high on political messages when they refused to sing their national anthem at FIFA World Cup in Qatar. Earlier, Iran's football team was heavily criticised by many opponents of the Islamic Republic for not openly supporting the protests happening in Iran against the regime.
Playing for the country in the World Cup is a dream for any player which requires a hundred per cent devotion to the game.
But instead of watching them play good football, some in Iran wanted them to shout for the protesters. The result: England started their FIFA World Cup 2022 campaign with a 6-2 win over Iran. Defeat is not the news, but the protest on the field makes it to the headline.
True, protesters are raising serious issues which can't be ignored. But to force players to stop focusing on sports and indulge in political messages is not paying results. But as witnessed, it appears that all the major issues must be raised during this world cup otherwise it would be too late.
Many in the past have pressed for the need to keep sports away from politics. But such is the pressure of social media these days, a player can't do what he or she is supposed to do - go out and play.
Iran players chose not to sing their country's national anthem before their opening World Cup match against England, in an apparent show of support for protesters back home. pic.twitter.com/EjrdZ1y3IT

— ESPN FC (@ESPNFC) November 21, 2022
Let the kids play football - Queiroz
After Monday's 6-2 defeat in Group B, Manager Carlos Queiroz said the political unrest at home had taken a toll on his squad.
"To those who come to disturb the team with the issues that are not only about the football opinions, they're not welcome because our boys, they're just simple football boys," the Portuguese was reported as saying by the BBC.
"Let the kids play the game. Because this is what they're looking for. They wanted to represent the country, to represent the people, as any other national team that are here. And all the national teams, there are issues at home," Queiroz said.