Chennai Super Kings, Rajasthan Royals suspended from IPL for 2 years
Rohan Raj
| Updated on: 13 February 2017, 3:19 IST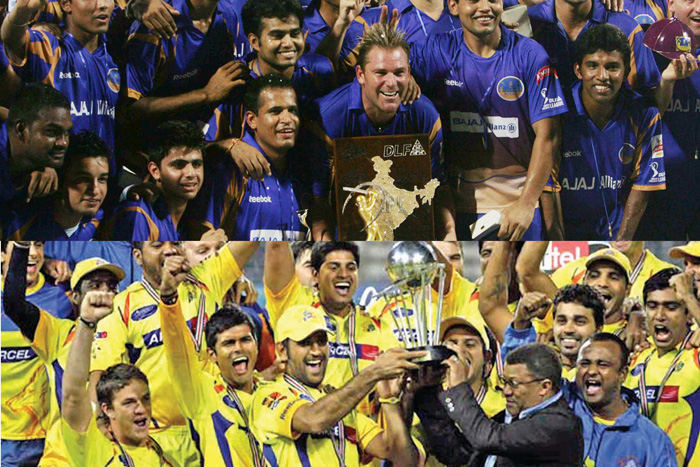 In a massive blow to the Indian Premier League (IPL), the Supreme Court-appointed Justice Lodha committee on 14 July suspended Jaipur IPL Cricket Pvt Ltd (owner of Rajasthan Royals) and India Cements (who own Chennai Super Kings) for two years, following their officials' involvement in the 2013 IPL betting and spot-fixing case.
The two teams will not be able to participate in the tournament for the next two years.
While the committee did not comment on what happens if there's a change of ownership, it may be possible for the teams to make a comeback in such a scenario.
Kundra and Meiyappan were found guilty of betting during the 2013 season of the IPL. When asked about the fate of IPL COO Sundar Raman, Justice RM Lodha revealed that the committee feels that the investigation needs requires more work to pronounce a verdict against him.
Read more: Justice Lodha's order is a landmark. But is it enough to clean up cricket?
What does this mean for the two teams
The shocking verdict regarding both Chennai and Rajasthan is devastating for the Indian Premier League. Since the IPL business model is based on eight teams expandable to a maximum of 10 teams, the suspension comes as a major loss in terms of revenue for the tournament. This further reduces the IPL to six teams in the 2016 season.
It's hard to imagine as to how the tournament, which is usually played with eight teams, will be played in that situation. This verdict would also have major financial consequences for some of the biggest names in cricket, as Chennai are captained by India's ODI skipper Mahendra Singh Dhoni while Rajasthan comprises star players including Australia's star-batsman Steven Smith.
The verdict
Chennai Super Kings team official, Gurunath Meiyappan, suspended for life and banned from cricket-related activities for 5 years.
Rajasthan Royals co-owner, Raj Kundra, suspended for life and banned from cricket-related activities for 5 years.
Two-time IPL champions, Chennai Super Kings, suspended for two years from participating in the Indian Premier League.
Inaugural champions Rajasthan Royals also suspended for two years from participating in the Indian Premier League.
All punishments will commence from today.
No verdict on IPL COO Sundar Raman as the Lodha committee feels the investigation requires more work and time.
The BCCI now has to take a call as to whether the CSK and RR can be sold to new owners, clarifies Justice Lodha.
Rajasthan Royals
The inaugural Indian Premier League (IPL) champions Rajasthan Royals suffered a massive blow after three of their players S Sreesanth, Ankeet Chavan and Ajit Chandila were arrested in the spot-fixing case in May 2013.
The team's problems didn't end there as its co-owner Raj Kundra was found guilty of betting during the IPL games. Following the controversy, Kundra transferred his shares and exited Rajasthan's ownership group.
Chennai Super Kings
The two-time Indian Premier League (IPL) champions Chennai Super Kings found themselves in trouble after their team official Gurunath Meiyappan, son-in-law of former BCCI chief and Chennai owner N Srinivasan, was arrested by Mumbai Police for betting in the IPL matches.
It was found that Meiyappan was in contact with bookies through actor Vindu Dara Singh. Following this, Srinivasan, on 2 June 2013, decided to step aside as BCCI President temporarily until the inquiry into the spot-fixing case completed. In February 2014, the three-member panel appointed by the Supreme Court to inquire into the spot fixing scandal indicted Meiyappan for illegal betting and passing on information about team strategies to bookies during the 2013 IPL.
What is the Justice Lodha committee?
The Lodha Committee came into existence on 22 January 2015 after the Mudgal committee, an investigator in the 2013 IPL scandal, submitted its report. The Supreme Court-appointed Lodha committee is comprised of retired Chief Justice of India Rajendra Mal Lodha and retired Supreme Court judges Ashok Bhan and R Raveendran.
Lodha was appointed head of the sentencing panel in January after the Supreme Court had found Rajasthan co-owner Raj Kundra and Chennai team official Gurunath Meiyappan guilty of betting on the IPL games. The committee was given three tasks:
To decide the quantum punishment for those found guilty by the Justice Mukul Mudgal committee's investigation.
To examine the role of Indian Premier League COO Sundar Raman in the 2013 IPL fixing scandal. Also, impose adequate punishment on Raman on behalf of the BCCI.
To review BCCI's functionality and suggest administrative reforms with a view to preventing sporting frauds and conflict of interests. Also help BCCI become more transparent and more responsive to the public at large.