If you aren't following Iceland at the Euros, you should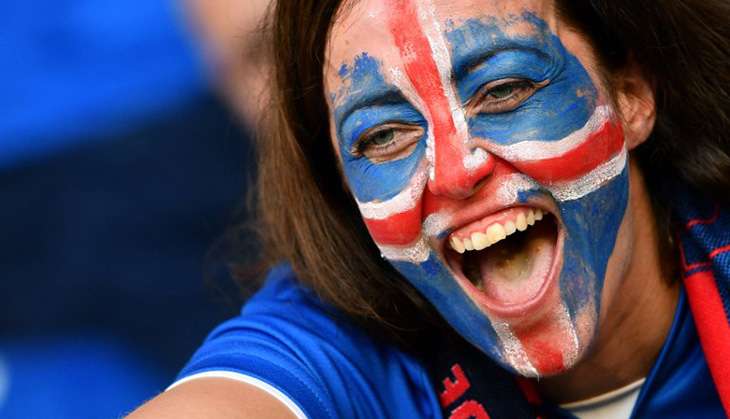 The last year hasn't been the prettiest for football. Apart from the fairytale of Leicester City, a host of separate incidents - from corruption in FIFA to the recent fan skirmishes between Russia and England supporters - have tarnished football's moniker as the beautiful game.
With all of this, the ongoing Euro championships was meant to be a welcome respite from the ugliness of everything that came before. However, the tournament, with it's new 24-team format, has been anything but exciting, leaving football fans wondering if the magic of the game is ebbing.
Also read - Lionel Messi retires from international football after Argentina loses Copa final
In the midst of this mess though, there has been one shining light that has reminded everyone what makes football the most widely followed sport in the world. Oddly enough, this shining light isn't any of the traditional footballing super powers. Instead, it has come in the form of the smallest country to have ever qualified for a major footballing tournament - Iceland.
When Iceland qualified for the Euros, even beating Holland twice along the way, everyone thought that that was as far as they would go. It isn't hard to understand why either. With a population of just over 330,000 people and just over twice the size of Mumbai, surely they weren't there for anything but to make up the numbers.
However, instead of going quietly into the night, Iceland has captured the hearts and imagination of football fans across the world. On the pitch, the Icelandic players have acquitted themselves masterfully, showing a grit and determination that's increasingly rare in the money-fuelled modern game. It's seen them hold Cristiano Ronaldo's Portugal, top their group and, now, knock out the much vaunted, if perennially disappointing, England.
But it isn't just their spirit on the pitch that has the world captivated. In fact, it's everything that's going on off the pitch that has neutrals rallying behind the tiny Nordic nation.
Qualifying for the Euros has got Iceland excited like never before. It seems that, down to the last citizen, every single person in Iceland has rallied behind their team. In fact, just this last week, when Iceland elected a new prime minister - a historian with no political experience - one expected he'd begin by reassuring the country about its political future. Instead, his first act was to hightail it to France to support the team.
It's the sort of thing that would draw outraged editorials and scathing open letters in India. But no one in Iceland minded. In fact, voter turnout in the Presidential election had already suffered because close to a tenth of the population was in France cheering their team on, with the rest watching on TV. Such is the nation's captivation with the fairytale unfolding in France.
With the exception of possibly the Irish fans, Iceland's fans have been loud, positive and vibrant. The sight of their red and blue face-paint, waving flags and loud chants, they have lit up every venue they've been to. In fact, while the television feed usually cuts back to the studio the moment a match is done, the cameras linger a while longer after an Iceland match for their post-match antics.
Led by the team and the coaching staff, the entire Icelandic contingent indulges in a viking chant that will leave your hairs standing on end:
And if you thought it was just the fans in the stadium, this is what Reykjavik looks like during a match:
It's not just the fans either, Iceland have been blessed with a football commentator who wears his heart on his sleeve and has vocal chords that would put any metal band to shame. Thrilled to be commenting in such historic games for his country, Gudmundur Benediktsson's commentary sounds less like he's describing a football match and more like he's describing the mother of all tornadoes having sex with an erupting volcano.
With that sort of performance, it's a miracle he even has a voice for the next match. Except he absolutely does:
And if they're pitchside commentary is this good, the Reykjavik Grapevine,
a Icelandic news outlet's twitter commentary absolutely steals the show. Peppered with references to their viking roots, their Twitter commentary takes no prisoners and goes overboard the way only a viking with terrible balance could.
Deep in the bowels of the earth, an ancient power stirs. Eiður is warming up. #ISL #Euro2016

— Reykjavík Grapevine (@rvkgrapevine) June 14, 2016
Smiters gonna smite. pic.twitter.com/G9MlN304dS

— Reykjavík Grapevine (@rvkgrapevine) June 28, 2016
Holy shit. Three minute to #Brexit2. #ENGISL #ICELANDSMITES #Euro2016

— Reykjavík Grapevine (@rvkgrapevine) June 27, 2016
England *really* don't like being Europe huh. #ICELANDHEROES #ICELANDSMITES #WEFUCKINGDIDIT

— Reykjavík Grapevine (@rvkgrapevine) June 27, 2016
Is this really the #ENG football team? Definitely not Olympic #Diving, or Dominoes? #ENGISL #ICELANDSMITES #Euro2016

— Reykjavík Grapevine (@rvkgrapevine) June 27, 2016
#Gunnarsson the destroyer spared his life. He should get bonus points, not a yellow card. #ENGISL #ICELANDSMITES #Euro2016

— Reykjavík Grapevine (@rvkgrapevine) June 27, 2016
Heck, even Iceland's Ministry for Foreign Affairs has gotten in on the act. This was what they were asked on Twitter:
@MFAIceland

Where did you find these players mate?

cheers from Italy...

🎉

— pinup icierno (@Pin_upicierno) June 27, 2016
And here's their response:
@pin_upicierno pic.twitter.com/ot0Mq2lsjM

— MFA Iceland 🇮🇸 (@MFAIceland) June 27, 2016
On their own, the tiny Nordic island are taking the world by storm, one tweet, chant and goal at a time. But even in victory, their fans manage to remain graceful, with one even offering the vanquished English team a free whale-watching expedition in Iceland.
Go on you crazy vikings, keep going at the Euros and keep making the rest of the world smile.
More in Catch - Copa America final: It's Messi's chance to match up to Maradona
Lionel Messi sends signed jersey to young Afghan fan who wore plastic bag 'Messi' t-shirt