An article by Egyptian-American journalist Mona Eltahawy, known for creating ripples with her outspoken advocacy for Muslim women's rights, has been censored by Pakistan.
Eltahawy's article published with the New York Times, titled Sex Talk for Muslim Women, has been censored from the print edition of the international news paper in the country.
She took to her Twitter account to point out the issue.
It was Sanam Maher, a journalist from Pakistan who posted the picture of the NYT page with Eltahawy's article missing.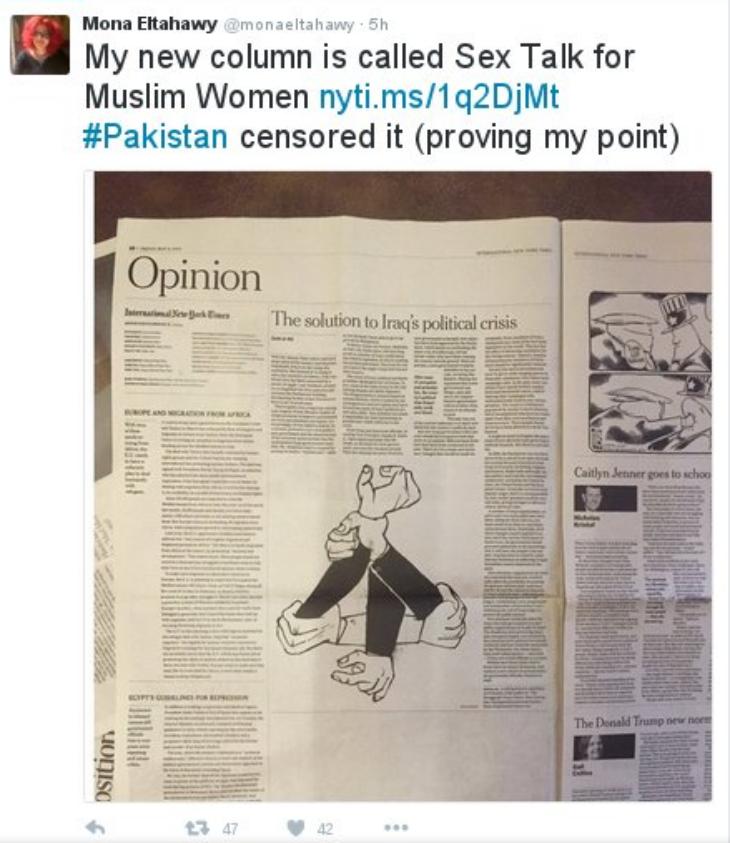 Twitter

The lower half of the page in the Pakistan edition of the NYT carries a blank space in place of the article - proving that it had been deliberately omitted.

In the article, Eltahawy takes on the Islamic viewpoint on pre-marital sex. Sharing her experiences while writing her famous book, Headscarves and Hymens, Elthaway writes that she has come across a number of women who have been struggling with sexual frustration - born out of the abstinence that they were religiously bound to practise.

Elthaway says that far fewer stories have been written about this issue, while countless articles have been written on the sexual frustration of men in the Middle East.

Recalling her own struggle with the taboo around "sex talks", Eltahawy says, "It has not been easy for my parents to hear their daughter talk so frankly about sex, but it has opened up a world of other women's experiences".

"In many non-Western countries, speaking about such things is scorned as "white" or "Western" behavior. But when sex is surrounded by silence and taboo, it is the most vulnerable who are hurt, especially girls and sexual minorities," she writes.

The article concludes on a positive note. "My revolution has been to develop from a 29-year-old virgin to the 49-year-old woman who now declares, on any platform I get: It is I who own my body. Not the state, the mosque, the street or my family. And it is my right to have sex whenever, and with whomever, I choose," she writes.