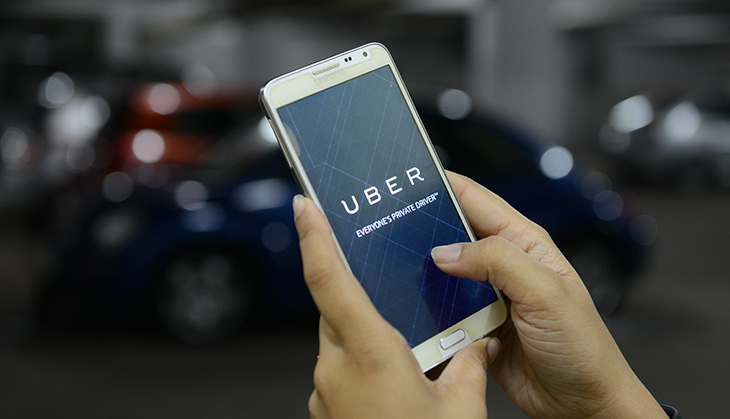 Uber and Ola have made things easy for us, working women. I can choose to stay back late at work, always aware that cabs are now available at the click of a button. I use both taxi aggregators often, but have a leaning towards Uber.
But on 4 July, I was gobsmacked when I took an Uber cab from the New Delhi railway station at night.
What happened that day
It was 10:45 pm. I was aboard the Shatabdi, on my way back to Delhi from an out-of-town meeting. The train was delayed by 15 minutes.
My father had called me several times during the journey. "You have no idea how things work. You'll not get taxis at such odd hours," he said, persistent on picking me up. I refused every time, insisting that I am an adult, independent, working woman. He went on to instigate my husband. "I have to pick you up. Your dad will kill me if I don't," said my perturbed husband, clearly panic-stricken (thanks to my dad). I still refused.
So on Monday night, I got off the train, waved goodbye to my colleagues (assuring them that I can reach home on my own), all the while busy trying to book an Uber. The first cabbie cancelled the trip. "Hum Noida nai jayenge. Permit nai hai," he said on the phone. (I won't go to Noida. Do not have the permit for it.)
After the initial tussle of who'll cancel, the driver finally cancelled and I proceeded to book another Uber. After wading through the water-logged compounds (it rained in Delhi that day), the next driver picks me up from the station's entry point, near the Paharganj side. As I enter the cab, he starts the trip and finds out the destination is Noida.
"Oho, madam. Yeh to Noida hai. Mere gaadi mein gas (CNG) nai hai. Ya to aap doosra book karlo, ya fir raste mein kahin bharwa lenge," says the driver. He informs me about a CNG pump near Mayur Vihar.
I check my watch. Almost 11.30 pm. The GPS doesn't show too many Ola cabs around (Couldn't access Uber as my ride was on). My father's words ring in my ears.
"Thik hai, bhaiyya. Raaste mein bharwa lena. Par jyada time nai lena," I agree reluctantly. We move on.
The Uber ride
After sometime, I realise the driver has missed the turn towards the gas pump and is heading off to a different direction. Objecting, I inform him that he's missed the turn.
"Haan, shayad galti ho gayi hai. Age se le lete hain turn," he says. (Yeah, maybe I made a mistake. Let's take the next turn).
Yet, willingly, he ignores two other alternative turns and keeps moving forward. I ask the driver to stop and ask passers-by how to reach the pump?
He slows down and gazes at passers-by, but never stops to get directions.
I further protest. "Arre bhaiya, kisi se rukkar puch to lijiye. Aise kya age bade ja rahen hain?" (Why are you still driving? Stop and ask someone.)
Reluctantly, he takes the next left turn and stops near an autowalla, inquiring for directions. Turns out, he's missed the first pump and the next pump lies further 10 km down the empty road.
I sense something is wrong. Why would he deliberately miss turns towards the CNG pump and choose a road that goes to a pump far away?
I warn him. "Bhaiyya, abhi aap turn kijiye. Aur wahan chaliye. Yahan nahi." (Stop right now and go back. Not here.)
"Koi baat nai, yahan bharwa lenge," he says. (No problem, let's fill up the tank from here).
I refuse. Protest. Ask him to turn back immediately.
He doesn't.
Panic-stricken, I ask again.
This time, he turns back to look at me and screams: "Haan sun liya maine. Kar rahan hun turn."
(I heard you. I am turning).
Stunned, it takes me a moment to realise that the driver just screamed at me, almost threatened me. I freeze. The driver makes a U-turn and moves at an extremely slow pace, unwilling to go back to the earlier route.
Then, I make a mistake. I tell him I am calling the police. I shouldn't have told him that. Just dialed directly.
"Haan, haan, thik hai. Bulalo police ko," he mocks me. (Yeah okay. Call the police)
There was no doubt in my mind that the call had to be made immediately.
What happened when I hit the SOS button
Immediately, I look for the help button on my phone. A button on the Uber page says SOS. Takes a moment to locate. I click on it. It gives me two options. One of option indicates make an emergency call to the police. By this time, the driver has picked up speed.
I click on the call police option.
Instead of making a direct to call to police, my smartphone dialler screen opens up. Dial '100' comes up on screen. Irritated, I hit the dial button.
After two rings, a lady picks up on the phone. She asks me in a high Haryanvi accent, "Hanji, kaun bol raha hai? Kya problem hai." (Yes, who is speaking? What is the problem?)
I tell her my name and try to explain, in one short sentence, all the above.
She asks for my location.
I look out of the window. The cab is moving at high speed, crossing a flyover, near a metro station. The driver is listening to the entire conversation all this while.
I recognise the station, tell the lady on phone where I seem to be heading. She asks for more specific information.
I feel angry. Shouldn't the police control room read my location via automated GPS?
I try to explain again. She hears me out patiently, takes down the cab license number and hangs up.
Immediately after, I get another call. This time, it's a sophisticated sounding English-speaking man. He says he's from Uber and asks for details. I tell him everything, in English this time.
The man asks to speak to the driver. I pass over the phone to the driver. They speak to each other in Hindi, the driver explaining how his cab has no gas and I am not letting him go to the pump. "Madam ko to pehle hi bata diya tha gas nahi hai. Baad mein kyun boli?" (I had informed Madam earlier that I was out of gas. Why did she object later?)
He pauses, listening to the man on the other side.
Magically, it turns out that the driver has back-up petrol in tank - enough to drop me home. He takes the correct route and starts driving. The Uber personnel assures me that I will be dropped home safely and that they are tracking everything.
All this takes about 15 minutes. And it doesn't end here.
Within moments, I receive a call from a police personnel. He starts asking me a series of questions. This is how the conversation went -
Police: "What has happened?"
Me: (Give him all details)
Police: "Where are you ma'am?"
Me: "Currently on the way back home." (Explaining the route)
Police: "But you mentioned, some other place, during the call. Do you still need help?"
Me: "I don't know. The driver did not stop. He seems to be dropping me home. But I am not sure."
Police: "Ok. All right. Please hand over the phone to the driver."
I do as instructed. The police personnel takes down all his details on phone - the man's name, his father's name, his native place, what car he drives, his license details, etc.
The call ends.
Within minutes, I get another phone call from another police personnel. The same conversation repeats. And then, another policeman calls.
I receive six calls in total from the police, each time, repeating the same statements, the same facts.
Tired and exhausted, I tell the last one that my phone battery is dying and that I've almost reached home by now.
"Actually, ma'am, aap ekbar 100 pe phone kar dete hain to sab ke pass yeh message flash ho jata hai. Hume to apna kaam karna padega," he tells me sincerely. (Once you dial 100, the distress message is flashed to everyone. We have to do our job.) I tell him that I've reached my apartment. And that he can drop the case now.
To drop the case, he takes another round of details, this time from me. "Where do you work?" "Where are you coming from?" "What is your husband's name?" Many more followed.
And finally, he says, he's closing it.
I get off the cab. Without a word, walk towards my home. My panic-stricken husband, who'd received the automated emergency messages, was desperately trying to get in touch with me. Relief floods us.
My lessons
1.It took me three clicks to call the police, instead of one as expected. First, I pressed the SOS button, then hit on call 'police' and finally dialled 100.
2. Yes, the Uber SOS panic button works. But only in a limited manner. I struggled to explain my location. It does not send any automated GPS tracking to the police. Or probably, the police doesn't use the GPS to locate the cab. In short, people who should track you via GPS location aren't doing it.
3. Narrating the experience over and over again in such a short span to six different police personnel was mind-numbingly exhausting. I was sapped of all energy and just wanted this entire ordeal to end. Decided not to press any charges as I could not go through all of this again!
4. All that conversation back and forth had given the driver enough time to build up his excuses. When he realised that I had actually called the police, he tried to change his statements, pinning the blame on me.
On the same day, I later learnt, another Uber cab driver had threatened a woman passenger in Kolkata: 'Shut up, or I will rape you'.
And, no. My dad still doesn't know what happened that night. I am hoping, he doesn't come across this article. He's not online that often.
Edited by Abha Srivastava