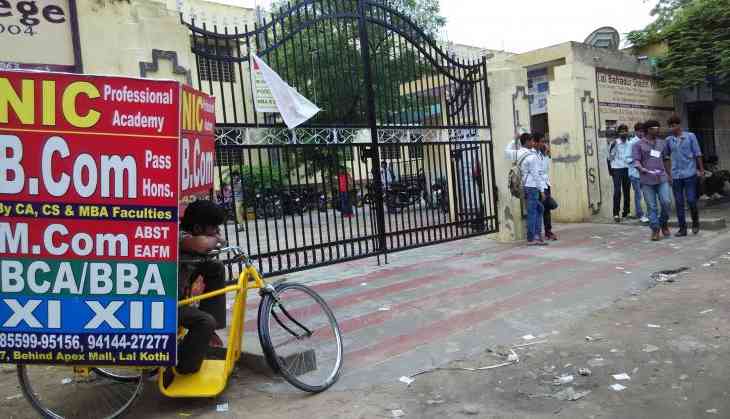 Bunty Singh with his advertisement-installed tricycle parked outside a college in Jaipur (Mohd Fahad/Catch News)
The person who invented wheel gets appreciation but the one that invented three wheels receives all the blessings in the world by those losing control of bodily functions or dealing with limited mobility.
For people like Bunty Singh, the traumatic ailment of losing sensation in feet can lead to severe depression and extreme sense of grief. But today this disabled lad from Uttar Pradesh's Moradabad district armed with a tricycle is earning a livelihood with dignity.
He got his tricycle by an NGO in Jaipur. He along with others from the state is hired on informal contract for a period of six months by private coaching institutes in city's Lal Kothi area. Every morning he gets instruction to park his tricycle boasting.
On the question of migration from native place, Bunty says, "I did not get any work in Moradabad. I have been in this condition for years but no scheme benefitting disabled ever reached me. Few people had come to Jaipur from my village before and were helped by an NGO. They told me that if I come here I can get a tricycle for free."
As this innovative method of advertising doesn't burn a hole in coaching owners' pockets, the number of such mobile advertisements.
Also Read: I was able to embrace my autism through the building process: Autistic boy, who built the largest lego Titanic replica
"This is the cheapest mode of business exposure we can get. Plus it is lively. We can change the location of our advertisement in real time with just a phone call," says an ecstatic owner of a coaching centre.
"Disabled from various states across India come to Jaipur to get tricycle and then get such employment opportunities or turn their tricycles into shops," says Raju while hurriedly making circles with his hand pedal. We let him go as he needed to reach the destination built by both his fate and good virtues of a selected few in the society.
Also Read: India isn't disabled-friendly yet, but here are a few initiatives paving the way