Joy Tirkey
| Updated on: 10 February 2017, 1:48 IST
In the coming months, PepsiCo will revolutionise the soft drink industry in India, in the form of 7Up. The tangy and limey soft drink will now contain the natural sweetener Stevia instead of sugar, thanks to PepsiCo.
The stevia based drink will completely replace the current 7Up formula in the Indian market. If the formulation works, the PepsiCo will use its formula in its products across the range.
Synthetic sweetener aspartame contains artificial sweeteners trigger insulin, which sends one body into fat storage mode and leads to weight gain, kidney ailment, cell damage.
This is a direct result of the government's suggestion of cutting down the usage of sugar in aerated drinks, keeping in mind the spike in diabetes cases in the country.
7Up will be the country's first fizzy drink to incorporate Stevia as a sweetener. It is, after all, the world's most sought-after natural sweetener. According to media reports, the new sweetener which is being tested in Gujarat, contains 30% less sugar.
What is Stevia?
Unlike other substitutes, Stevia is derived from a plant. And obviously, it really doesn't add calories.
Several Stevia species are named 'candyleaf' as they are devoid of the sweet element. Native to New Mexico, Arizone and Texas, the plant is a part of the Asteraceae family. However, the most prized species is Bertoni which grows in Paraguay and Brazil, catering to people with a sweet tooth.
Stevia, being a big part in the sugar substitute market, was estimated to be worth $10.5 billion in 2012 - according to an analysis by Markets and Markets research firm. And, according to a 2012 review in the American Journal of Clinical Nutrition, currently 12% of children use the sugar substitute.
Reviewed by the industry, FDA has concluded that there is no basis for any objection to the use of certain refined Stevia preparations in food.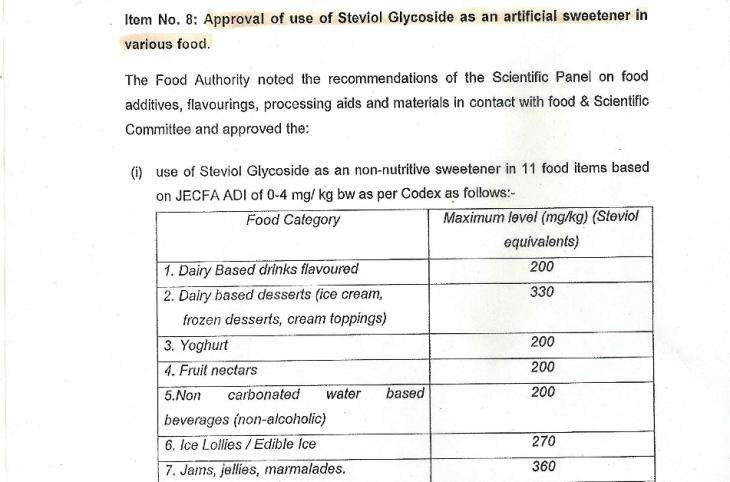 Photo: FSSAI
As of now in India, a report from the International Diabetes Federation (IDF) suggests that India tops incidences of diabetes in the whole world. The current estimation stops at around 62 million, an increase of over 10 million from the stats of 2011, when the figure stood at 50.8 million people. Research paints a very sorry picture with the prediction that by 2030, over 100 million people will fall prey to diabetes.
This would be the right time for the aforementioned step taken by 7Up to give India what it needs - sweetness without diabetes. Economic Times quoted, Vipul Prakash, PepsiCo's vice-president for beverages as saying, "If we want to make a meaningful change to our portfolio, we will have to do it two-fold - one is to introduce new choices, and second make the existing portfolio healthier. This is our first and very important move forward in making our existing core range healthier."
Amit Khurana, Head of Food Safety department, Centre for Science, when asked about the use of Stevia, said, "It's a natural sweetener and an alternative option for sugar, and should be a good option. Many countries use different sweeteners - natural or synthetic - and it should be a good alternative than the synthetic one."
"The reason that they will add natural sweetener instead of synthetic one should not be the reason to say it will cure diabetes in our country or help reduce diabetes. And something that encourages people to drink should not happen."
What needs to be remembered is that eve though Stevia is derived from a plant, it doesn't mean that no additional ingredients will be included in a product that incorporates it. Our taste buds are too accustomed to sugar, so to replace that taste some additives are sure o be present.
In a notification dated 13 November 2015, FSSAI has permitted its use in a range of products. This includes carbonated water, dairy-based desserts and flavoured drinks, yoghurts, ready-to-eat cereals, fruit nectars and jams. Madhu-Tulsi (Sweeteners in Food Regulations; Public Health and Municipal Services Ordinance) in India.
For instance, a packet of Truvia, a popular Stevia brand, contains erythritol, a sugar alcohol, and natural flavours, along with Stevia leaf extract. Pyure, another Stevia product, contains dextrose, a starch derived glucose from corn, wheat or rice.
Stevia might seem like a saviour, but as Khurana said, there is no hard and fast rule that sugar substitutes will help curb diabetes or curb a person's craving for sugar. According to study from the Weizmann Institute of Science, artificial sweeteners may have detrimental effects on our body that lead to an increased risk for obesity and diabetes.
However, recent studies have indicated that Stevia is the safest option in natural sweeteners present in the market and no side effects have been noticed, till now.
Professor Mauro Alvarez, Brazil State University of Maringa Foundation, in a report, said, "As a scientist with over 15 years researching the safety of Stevia and of many other plants used as food or food ingredients, I can assure you that our conclusions in these various studies indicate that Stevia is safe for human consumption as per intended usage, that is, as a sweetener."
--edited by Abha Srivastava