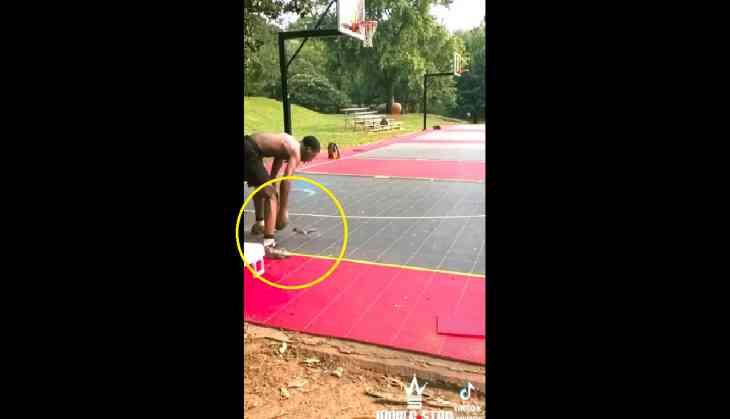 A video of a squirrel playing basketball with some men has gone viral on the internet, amusing people.
In the clip, a squirrel can be seen coming onto the basketball court and trying to snatch the ball from one of the players.
When another player spotted the furry animal and passed the ball to it, the squirrel actually responded by pushing the ball to yet another player. When a player started dribbling the ball, the squirrel accepted the challenge and hopped around, trying to grab the basketball.
This unique behavior of the squirrel amazed the other players, who then forgot about their game and started playing with the tiny creature.
Watch here
Who said squirrels can't ball 🤣 pic.twitter.com/NsgVvI6VNz

— CCTV IDIOTS (@cctvidiots) March 31, 2023
The clip was shared on Twitter by account named @ CCTV IDIOTS with a caption, "Who said squirrels can't ball."
Since being shared the clip has accumulated more than 1,33,700 views over 3,600 likes. The clip has also prompted Twitter users to express their thoughts in the comment section.
Some of the Twitter users joked by saying that the squirrel was a basketball player in its previous life.
Here are some interesting comments.
So Cute

— Umar Basha Shaik (@UmarBashaShaik3) March 31, 2023
OMG , so cute🥰

— Chiara -zia (@AmyLeloved) March 31, 2023
Musta be a baller in his past life

— Mighty Ike (@ThyMightyIke) March 31, 2023
March 31, 2023
He probably thinks it's a giant nut...🥜😂

— Dr Nenji (@AMuvadi) March 31, 2023