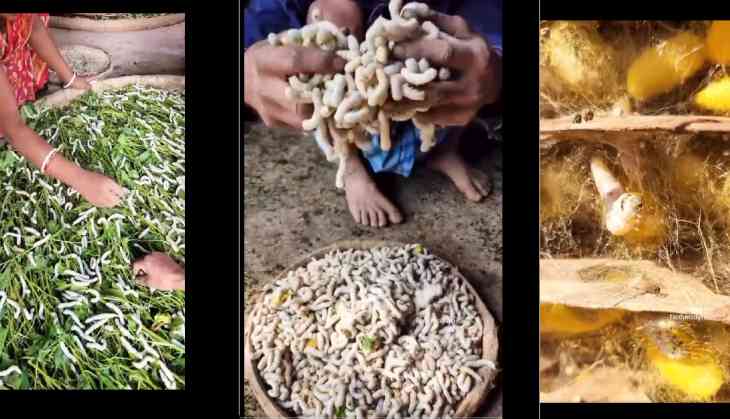 We all love pure silk clothing. Not only is silk skin-friendly, but it also gives an elegant look. Have you ever imagined how natural silk is made?
It is worth noting that the process of manufacturing silk involves numerous steps, including cultivating silk worms, harvesting cocoons, sorting and cleaning, spinning, weaving, and finishing.
A lot of hard work and dedication is involved in the silk manufacturing process. If you are curious about knowing the process, we have brought a video clip that displays the entire silk manufacturing process in just 1.30 minutes.
In the clip, people can be seen picking the cultivated silk worms and putting them in a special wooden cabin where the silk worms will make cocoons. After placing the silk worms in the wooden cabins, a man can be seen putting the cabins in an open ground. In the next step, a man is shown plucking cocoons from the cabins and storing them in a wooden bucket. Then, a man puts the cocoons in boiled water, which is a part of the sorting and cleaning process. He carefully spins the cocoons and attaches threads to a weaving machine. The silk threads are then ready for making your clothes.
Watch here
Silk manufacturing process! Amazing! pic.twitter.com/Kd926ZaKMl

— Ashraf El Zarka (@aelzarka) March 22, 2023
The clip was shared on Twitter by Vice President MEA at UiPath Ashraf El Zarka with a caption, "Silk manufacturing process! Amazing!."
Since being shared the clip has racked up 5.2 million views with more than 3,500 likes.
So, what are your thoughts about the informative clip?
Also Read: Viral Video: Zombie fish comes back to life after splash of water