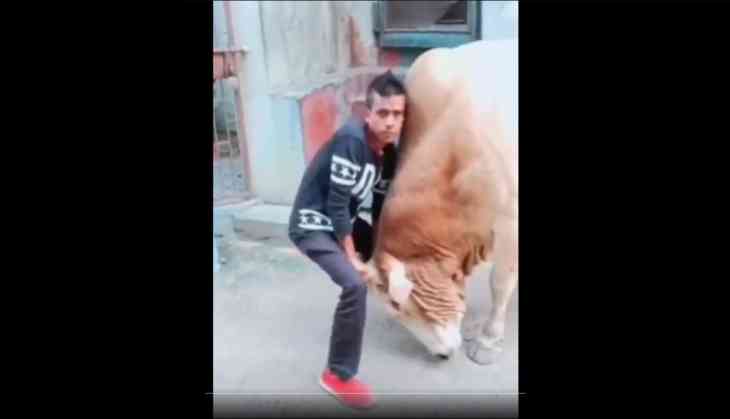 A boy who tried to overpower a full-grown bull, probably to make a TikTok clip, went all wrong and ended up injuring himself. Now, the clip has become viral on the internet, teaching a lesson to everyone that you should not do stupid things for a selfie or TikTok video.
In the clip, a boy can be seen trying to overpower a giant bull by holding its horns and forcing them downwards. He succeeds for a few moments but when the big cattle gets uncomfortable, it rolls its head, tossing the boy in the air and slamming him on the ground. Fortunately, the bull didn't go further and charge the boy.
watch here.
Trying to overpower a bull pic.twitter.com/76Hm67afKq

— Karma Clips (@Unexpectedvid_1) March 26, 2023
The clip was shared on Twitter by @karmaclips with the caption, "Trying to overpower a bull."
Since being shared, the clip has garnered more than 199.2k views and over 2,700 likes. The clip also prompted Twitter users to express their thoughts in the comment section.
Here are some interesting comments.
We all knew he's gonna fly

— RX KWARO (@Rxkwaro) March 27, 2023
Well done Bull! 👍

— Dave Robinson (@nosniborjd) March 26, 2023
Well deserved 😀

— S Walker (@walkerpunj) March 27, 2023
He got beefed up!

— JGee (@JGeeEleven) March 28, 2023