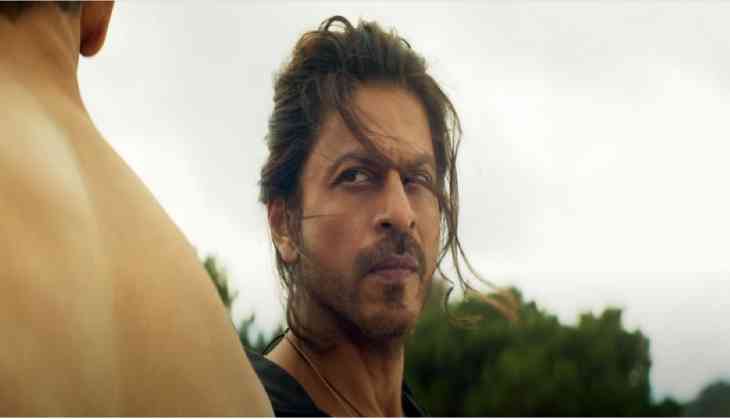 Bollywood star Shah Rukh Khan starrer 'Pathaan' is breaking all the records and enthralling moviegoers in theatres. It's like a festival for SRK fans as the actor returns to the big screen after a long gap.
'Pathaan' has become the biggest-ever release for a Hindi film in the history of Indian cinema, with 8000 screens playing the film worldwide and additional late-night shows being added to meet public demand.
Amid the celebrations, a Twitter user pointed out an error in the action-packed flick, and it's going viral on the internet like wildfire.
A Twitter user who goes by the namr @GabbarSingh highlighted the scene in which Shah Rukh says he was posted in Afghanistan in 2022 and saved locals during the operation. The actor describes in the movie that a missile was locked into his phone's GPS location. To divert the missile and save the people, he threw away his phone. However, GPS became a part of smartphones in the year 2008.
"In one scene there is a bomb about to explode in a train bogey, SRK uses a piece of metal (fragment of the train roof) as a shield to save him from the blast, the entire roof gets ripped apart, but the same material shield he is holding in his hand, protects SRK," the Twitter user wrote.
In a Pathaan scene, Shahrukh recounts how he was posted in AFG in 2002, and saved a local, coz a missile was locked on to his phone's gps location. So he threw the phone away to divert the missile. GPS in smartphones came in in 2008. 🥲

— Gabbar (@GabbbarSingh) January 29, 2023
The tweet has now gone viral on the micro-blogging site and has accumulated over 1 million views. The tweet has also got 13,600 likes and several comments. SRK's fans can be seen asking him to chill as it is just a movie and a fictional story.
"Just chill.. Its fictional story.. And fiction has tht much liberty… When showing 2050 today, movies do show things which are beyond imagination… Coz fiction has liberty," a user wrote.
"Action movies entertain us at the expense of logic and science. As did Top Gun Maverick, one of the best action movies to come in this decade when Maverick doesn't catch any fire at Mach 11 speed when he ejects but the state of the art aeroplane does," wrote another.
Budget 2023 News: Tax cuts to incentives for SMEs: What to watch for in Union Budget
Talking about 'Pathaan', the action-packed flick has collected Rs 296 crore (Hindi version) till yesterday. It hit the big screens on January 25 and enjoyed a five-day long weekend. The Hindi version had recorded an opening of Rs 55 crore in the country.
The Siddharth Anand directorial also stars Deepika Padukone and John Abraham, Dimple Kapadia, and Ashutosh Rana in pivotal roles.