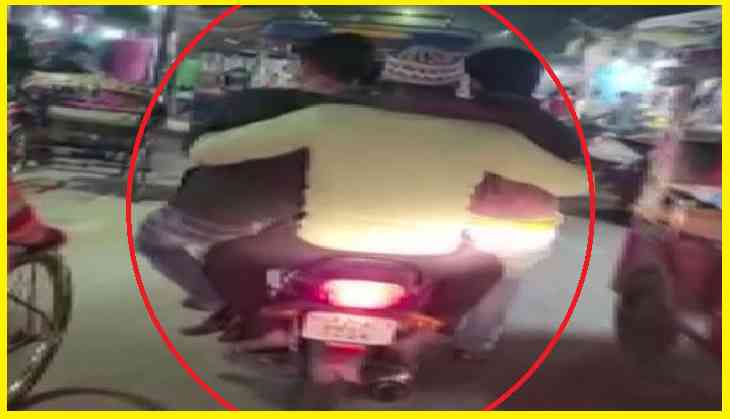 A video of a man riding a bike with four passengers on a busy road in Uttar Pradesh's Moradabad has gone viral on the internet.
On the bike, you can spot four men, three sitting on the seat (including the rider), and two sitting on each lap of the last man sitting on the seat. The bike's rider can be seen sitting on the petrol tank.
The video was shot by another rider who got amazed by watching five people on a bike. In the 26-second clip, the rider of the bike can be seen saying, 'tume chaalan katwoge mera yaar' (you will get me fined).
Watch the viral video here.
Five people on a bike were seen roaming on the road in #Moradabad, #Uttarpradesh #Trending #Viralvideo #India pic.twitter.com/aOjIHA2sZX

— IndiaObservers (@IndiaObservers) November 28, 2022
The Moradabad police arrested all the persons for violating traffic norms after the video went viral.
According to police, a challan of Rs 6,500 was issued against the accused under the Motor Vehicles Act. Police have also charged the five persons for disturbing the peace. They were produced in court and sent to jail.
Also Read: watch: Men with swords attack police van carrying Shraddha murder accused
Superintendent of Police (SP) Traffic Ashoke Kumar said, "A video went viral on social media in which five people could be seen riding a motorcycle in Kotwali police station limits. In the video number plate of the motorcycle was visible and based on that identification was done and action was taken. The motorcycle was seized and five persons were arrested."
The accused have been identified as Arif, Asif, Irshad, Shamim and Wasim, All are residents of the Asalatpura area. The motorbike belonged to Raees Ahmed.
Last week, a similar video went viral in which a man can be seen riding a bike with six passengers including two dogs.
Watch here.
ये अगर पकड़ा गया, इसको चालान भरने के लिए लोन लेना पड़ेगा। 😅 pic.twitter.com/pkbnD216md

— ज़िन्दगी गुलज़ार है ! (@Gulzar_sahab) November 18, 2022