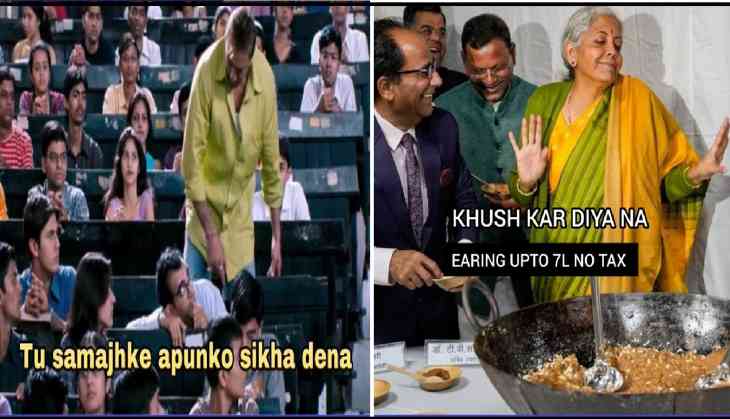 Soon after the Union Budget was presented in the Parliament by Finance Minister Nirmala Sitharaman, social media platforms were flooded with funny and quirky memes. Most of the reactions came after the announcement of the revised tax regime.
As in previous years, middle-class taxpayers tuned in to the Finance Minister's speech to learn about the benefits in the Union Budget. They were pleased to hear the announcement of a revised tax regime towards the end of the speech.
FM Sitharaman proposed a new tax regime, under which the income tax rebate limit has been increased from Rs 5 lakh to Rs 7 lakh. Twitter was flooded with mix reactions on the new tax regime with the #middleclass trended on the micro-blogging site.
Take a look at some of the best memes:
#middleclass right now😎#Budget2023 pic.twitter.com/IwU2JdWpbA

— Vikalp Sharma (@vikalprs) February 1, 2023
No Tax upto 7 lacks #middleclass #Budget2023 #NirmalaSitharaman pic.twitter.com/MuhJH6fisB

— Shivraj Patil (@meShivrajPatil) February 1, 2023
#Budget2023 #middleclass pic.twitter.com/ElCvo8pslD

— Shakhil Srivastava (@shokisoftware) February 1, 2023
#Budget2023

No tax under 7 lakhs
but #middleclass ko Ghanta Farq nahi Padta.
गरीब को कोइ "बड़ी राहत" नहीं हुआ#NirmalaSitharaman "New Tax Regime" pic.twitter.com/Q57MEqlf7V

— PAYAL SHAHU (@PAYALSHAHU62) February 1, 2023
Middle Class people while watching today's budget: #Budget2023 #BudgetSession2023 #incometax #NirmalaSitaraman #middleclass pic.twitter.com/IqdYe2NnSI

— Ankit Narang (@smiling_buddhha) February 1, 2023
#middleclass After seeing #BudgetSession Every year!😅 pic.twitter.com/VKNY9ytoeC

— swarnkar akshay (@AkshayS76155090) February 1, 2023
No tax liability till ₹7 lacs under the new tax regime.
Le: Middle class right now 😂😄😊#incometax #Budget2023 #taxation #middleclass #UnionBudget2023 #TaxPayers pic.twitter.com/Ype0uh737k

— Pawan Kewat (@pwnkewat) February 1, 2023
Middle class after seeing #Budget2023 #middleclass #commonman #UnionBudget2023 " Income Tax " "new tax regime" #cigarettes pic.twitter.com/3mf4qn9ZGk

— Halla bol (@halla_bol20) February 1, 2023
Middle Class People Listening To Every Line Of #Budget2023 .. Waiting For Income Tax. pic.twitter.com/Vw5MgKg4wt

— BHUBANANANDA NAYAK 🇮🇳 (@bhubana_nanda) February 1, 2023
*Budget 2023 exists*
Me to my commerce friend #Budget2023 pic.twitter.com/Sa05iYPbnC

— Vivek Gautam (@Imvivek04) February 1, 2023
FM Sitharaman, during her speech, said that the Union Budget focuses on areas such as inclusive development, infrastructure & investment, green growth, youth power, and the financial sector.
The positive sentiments also rifted the stock market. Sensex was up 1076.55 points and trading at 60,626.45 points. Nifty surged 264.25 points and was trading at 17,926.40 after the announcement of the Budget 2023.
Also Read: From Kharge to Mufti: Here's how Opposition reacted to Union Budget 2023