Pushpa Mittra Bhargava – conscientious scientist and advocate of scientific temper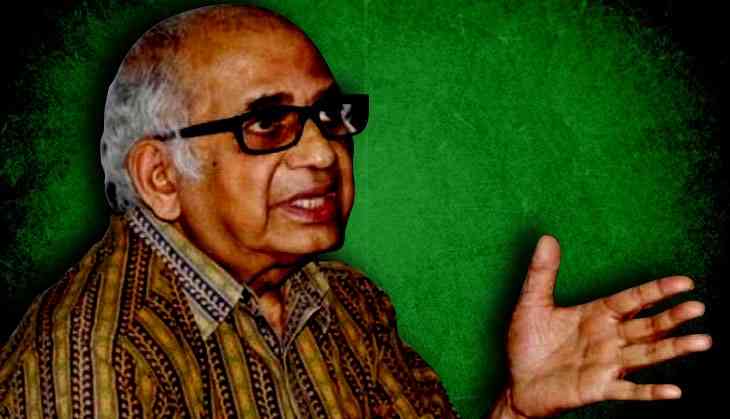 In the death of Dr Pushpa Mittra Bhargava, India has lost one of the most vocal advocates of scientific temper and rationality in India. Bhargava, widely considered as the father of modern biology in India, stood for ethical values in science. He was an institution builder who also played a pivotal role in policy making in science and technology in the past four decades.
Bhargava was an unconventional scientist. He believed in doing and promoting world-class biology and biotechnology research in India, yet he opposed the way biotechnology was used to further commercial interests. He was deeply involved in founding the Department of Technology (DBT), yet he openly criticised when the very institution faltered in the implementation of biotechnology regulation.
Bhargava stood on the side of victims of Bhopal gas tragedy when the mainstream scientific establishment was shying away from studying long-term health impacts of the toxic gas.
As a scientist and a thinker, Bhargava was always ready to provide his services to the government but he quickly retracted when things did not go his way. He never chose of compromise with his values, irrespective of the government in power.
He crossed swords with the Janata Party government in 1977 over unceremonious dismantling of the "Method of Science" exhibition which he had conceived and developed. He quit as vice-chairman of the National Knowledge Commission (NKC) following a difference of opinion during the UPA regime and returned his Padma award during the NDA period. In the Rajiv Gandhi period, he was a member of the scientific advisory committee to the Prime Minister.
Bhargava believed in promoting excellence in scientific research. He could persuade the government to hive off his research unit at the Regional Research Laboratory (now known as the Indian Institute of Chemical Technology) as a separate research institute. That's how the Centre for Cellular and Molecular Biology (CCMB) was born as a constituent lab of the Council of Scientific and Industrial Research (CSIR).
He wanted this lab to be developed as a centre for excellence in life sciences. In private conversations, he mentioned that labs focused on specific areas of research should be developed under the leadership of individual scientists, modelled along the lines of Max Plank Institutes in Germany.
The CCMB campus in Hyderabad was built under his personal supervision and bears the stamp of his personality. He regretted that he could not opt for a modern architecture and had to settle for a CPWD design, but he improvised a lot within that framework. For instance, he requisitioned none other than MF Husain to do a mural for CCMB. It was also the first lab in India to have an 'artist-in-residence' – famous painter A Suryaprakash. Painting exhibitions were held regularly in CCMB in the 1980s.
The only parallel would be the Tata Institute of Fundamental Research (TIFR), whose founder Homi Jehangir Bhabha was an art connoisseur and an accomplished painter himself.
The kind of detailing that went into building CCMB was remarkable. Not only did the lab provide all necessary amenities for scientists to do research such modern animal lab and continuous water supply, but also an enviable workplace in general. Canteen, open areas, lawns, guest house and reception – everything was designed and planned aesthetically.
Bhargava, along with his wife Manorama, personally selected drapes and curtains used in the guesthouse. The cloth was specially weaved in handloom centres like Pochampally. Every room had different décor. "These rooms are fit for kings and queens to stay," Bhargava had told this writer then about the international guest house at CCMB.
When Department of Atomic Energy established a lab for preparation of p32- labelled nucleotide molecules at CCMB, Bhargava gave it a creative name – Jonaki (Bengali word for firefly).
Over the years, CCMB not only gave birth to other research institutes such as the Centre for DNA Fingerprinting and Diagnostics (CDFD) but also spurred development of Hyderabad as a biotechnology cluster. Several scientists from CCMB became entrepreneurs setting up biotech, healthcare and bioinformatics ventures.
Bhargava did not choose to retire into a cocoon after his long stint with CSIR. He remained active until the end, engaging in a range of activities with causes close to his heart.
For instance, Medically Aware and Responsible Citizens of Hyderabad (MARCH) headed by him exposed malpractices in health care industry. He was also chairman of the Sambhavana Trust which runs a public clinic for victims of the gas tragedy in Bhopal.
***
CSD offers its condolences
In the passing away of Professor Bhargava, India has lost an eminent scientist, an influential public intellectual and a unique institution-builder. PM Bhargava breathed his last on 1 August 2017 at Hyderabad at the age of 89. In his death, the Council for Social Development lost a great mentor. PM Bhargava was a life member of CSD, Chairperson of its Research and Publication Committee and Chairperson of the Managing Committee of the Southern Regional Centre, Hyderabad.
Founder of the Centre for Cellular and Molecular Biology, Hyderabad, which he built as a global institute of excellence, PM Bhargava conducted pioneering research in biotechnology on the basis of which he influenced many of India's policies on genetic engineering.
Among his many outstanding research projects, the discovery and analytical documentation of some 90,000 species of traditional plants from various parts of India will remain a lasting contribution to the welfare of humankind.
On the burning issues facing the country, he always took steadfast positions in public and presented objective critiques of policy. On the promotion of scientific temper and secular values in society as well as universalising school education he passionately pursued his efforts through his writings and joining various initiatives. His return of the Padma Bhushan award in 2015 was a unique gesture of protest against the increasing climate of intolerance.
As a mentor in CSD PM Bhargava guided research and advocacy programmes of CSD both in Delhi and in Hyderabad with insights and critical advice. In the past two decades, he helped CSD to grow into a national centre for research on core issues of social development that concerned the marginalised.
Under his leadership, CSD undertook several new programmes on themes on the borderline of natural sciences and social sciences. His insistence that good research should not only meet rigorous academic standards but must also be presented to the public for leading to fresh policy initiatives and social action to benefit the common people will always remain the inspiring canon before CSD.
Under his leadership, the CSD Southern Regional Centre developed into a major centre for innovative research and purposeful public initiatives.
CSD community deeply mourns the passing of Pushpa Mitra Bhargava and sends sincere condolences to his family.