Moto Mods: Game on with the GamePad; JBL Soundboost 2 swaps single speaker for some serious sound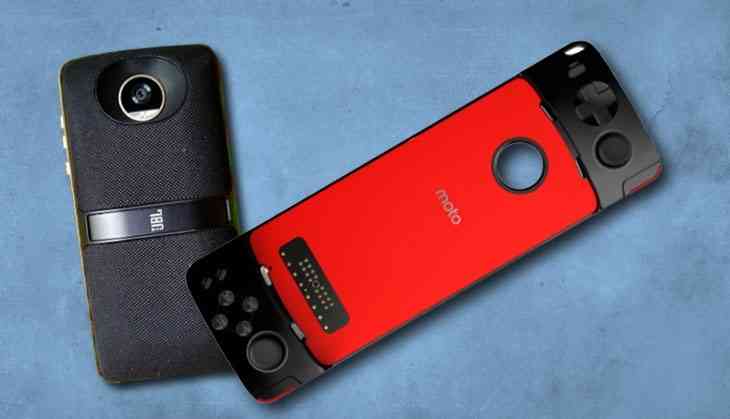 Motorola is not giving up on its innovative mods. The company last year, sought to reinvent the space when it brought out its Motorola Z2 Play smartphone. With a simple attachment at the back, Moto Mods as they are called, are good to go.
Many companies have tried to enter the 'modular' space but they've all just come and gone. Motorola has stuck around and is committed to the cause.
Motorola has been consistently releasing various mods every couple of months and as pricey an extension as they are, they do provide some edge to the smartphone.
For the past week or so, I've spent time with the Gamepad and JBL Soundboost 2 mods. While they are worth it simply for the convenience they provide, the added heft isn't worth the trip. Read on to find out what I think:
Gamepad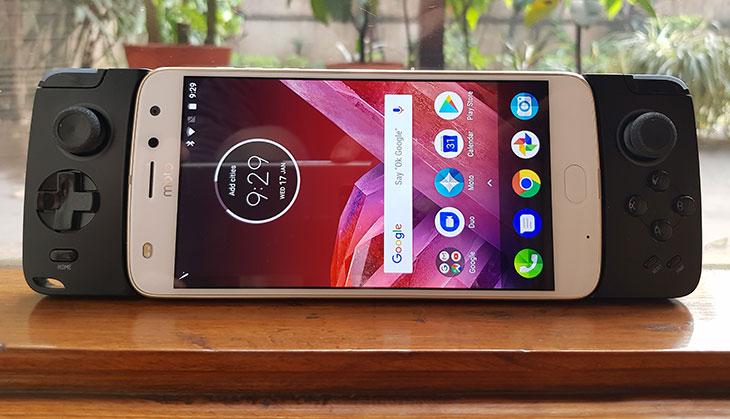 Sahil Bhalla/Catch News
Let's start with the Gamepad Mod from Motorola. Motorola's Moto Gamepad seemed like a slam dunk when the whole Mod ecosystem was announced. It's a little surprising it came this late to the game and in the end, it was simply underbaked.
In simple terms, the Gamepad Mod basically turns the Moto Z2 Play into a Nintendo Switch. It's a controller case turning your smartphone into a portable gaming console. At Rs 6,999, it is a pricey introduction into the extended world of gaming. I say extended because a lot of the games can be played by just using the touchscreen, though obviously, not nearly as much fun.
The Gamepad has an integrated battery and doesn't need Bluetooth to connect to the Moto Z2 Play. It has a direct, lag-free connection, instead. This makes for a much more pleasant gaming experience than connecting something like Sony's DualShock 4 controller via Bluetooth.
The hardware for the Gamepad is at its best. It's designed to give you the most pleasurable gaming experience and take you away from the world of notifications and keep you hooked on the game you've chosen to spend the next couple of hours with.
There's no setup required. There's no need to pair it up. Just snap it to the back of the Z2 Play and you're good to go. As an added benefit, the Gamepad Mod doesn't cover the camera, should you need to snap a photo whilst playing an intense session of Asphalt 8.
The buttons are sturdy and it won't feel like the joystick is just flying every time you try and make a turn.
It's the best gaming attachment to a smartphone I have ever used. The problem is not in the hardware.
The problem lies in the availability of games. Upon snapping on the Gamepad for the first time, I went and downloaded FIFA Mobile and Need For Speed, not realizing these games don't work with the Gamepad. Disappointed, I turned to the library of games Motorola had in store for its users. Let down by the lack of 'interesting' games.
Most of the games people play daily do not work with the Gamepad. Most of the games don't work because they have been built from scratch for use with touch. Then again, at times, I was excited. Like the time when I was playing Sega's Sonic or tennis games.
The thing is, you need to just ask yourself one important question. Will you let Motorola decided and dictate what games you can play with the Gamepad? If you're willing to live with a limited set of games and cough up the one-time price of Rs 6,999, then this is for you.
Don't forget that the Gamepad will most definitely not fit into your pocket and you'll need a bag to carry it around. That is the biggest deterrent.
If you do want a console-quality gaming experience without coughing up for an actual console, then by all means, go out and buy one.
JBL Soundboost 2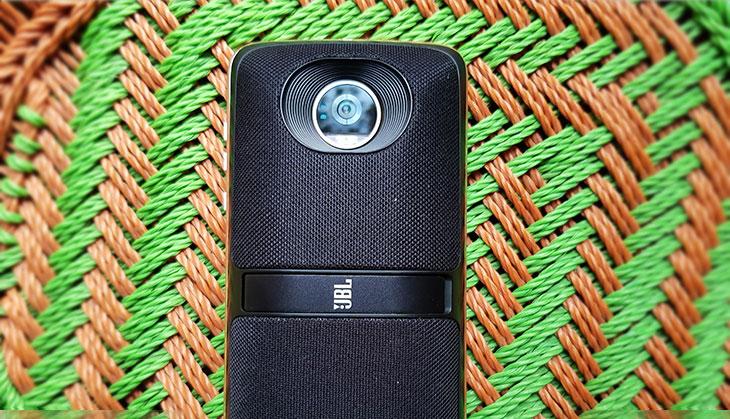 Sahil Bhalla/Catch News
This one is going to be short. Whilst JBL's Soundboost 2 is good on sound, it isn't necessarily better than the competition. Priced at Rs 6,999, the JBL Soundboost 2 Mod competes squarely with Ultimate Ears' Wonderboom.
The JBL Soundboost 2 Mod is a rounded and compact speaker pack that provides a hefty sound. The front-facing speaker, as everyone knows, is a let down on most smartphones. Ditto on the Moto Z2 Play. So to be able to whip out a Mod like the JBL Soundboost 2 and drown out a whole party of people is quite something, and an entirely enriching experience, on first listen.
Additionally, the Soundboost 2 is waterproof, in case you spill that drink of yours on it. It is a much easier sell than the Gamepad as it is much more portable and isn't hefty at all. There is a Soundboost app that I didn't even bother loading after installation.
Like the Gamepad Mod, there is something you must ask yourself before you go out and purchase these Mods.
First, do you own a Moto Z2 Play? (Quite a self-explanatory one)
Second, do you always carry a bag with you? (Again, it won't fit into your pocket)
Third, do you own a Bluetooth speaker (with better sound quality than the Soundboost 2)?
Fourth, do you want to spend on a product that will only work with the Moto Z2 Play?
If all the boxes are ticked, then go and visit your nearest Moto Hub (50 were launched in Delhi just last week) and purchase one. Otherwise, sit back and relax, and wait for the next wave of modular smartphones, that might just be a much better buy.
I will say one more thing before ending this review. Buy a Z2 Play (when it is discounted) and purchase the Gamepad. That is an experience you may never get on any other smartphone in future. Think about that for a minute.