Day 2 of the Consumer Electronics Show brings more of the unusual and unnecessary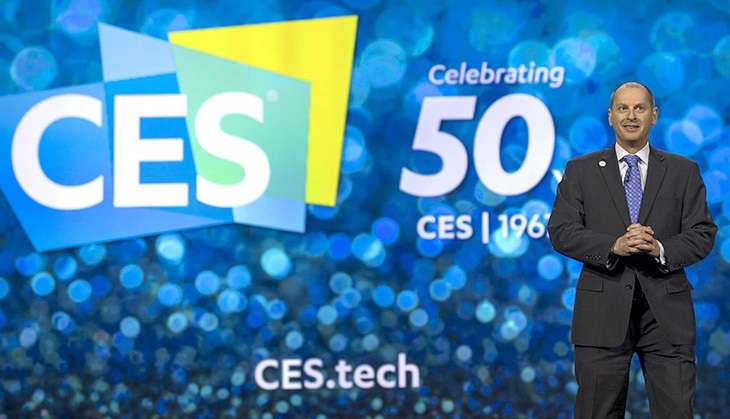 On day 1, the Consumer Electronics Show (CES) 2017 brought us Faraday Future\'s electric car that no one will get to buy and a 4K speaker that exists only because LG rewrote the definition of 4K. There was also a smart cat feeder that aimed to eliminate human-cat interaction. But If you thought Day 1 was weird, Day 2 has given it some solid competition.
If day one brought us things like the "connected" toothbrush and hair brush, now we have a connected mirror. CES brought to the forefront Griffin Technology\'s $999.99 smart mirror that no one has any business buying. At that price, the only thing it reflects is poorly on its owner\'s narcissism.
Love too pay $1000 for a mirror that shows me my texts and the weather and also somehow the mirror connects to the coffeemaker pic.twitter.com/9kVCyzB0Zd

— Ed Zitron (@edzitron) January 5, 2017
But that's just the tip of the wacky CES 2017 iceberg.
01
Fancy a Bluetooth-enabled radiation detector?
There is now a "Bluetooth-enabled, app-supported, personal radiation tracker" called Dosime. It's small, tiny and pretty useful if you've recently annoyed the Russian government and also love Bluetooth.
The device allows one to "detect and report real-time radiation exposure in their homes" to "ensure peace of mind." The device, as the company states, can be used to monitor the radiation situation in the house or inside/clipped on clothes when one is venturing outside.
Ideal for residents of Fukushima and Chernobyl, it scans for X-rays and gamma rays every four seconds. It connects via Bluetooth to your phone and comes at a cost of $249. It'll go on sale sometime early in 2017.
02
Huawei Mate 9 with Alexa
Just in case you care for another smartphone launch, Huawei has come out with its flagship Mate 9 that has Amazon's Alexa preinstalled on it and will come at a cost of $600 in the USA."It has a 5.9-inch 1080p display, 4GB of RAM, 64GB of internal storage, 4,000 mAh battery, fingerprint sensor, and a rear dual-camera system" and will come in gray and silver.
03
Fitness monitor for the pets
Whistle 3 is a pet tracking collar that lets you monitor the daily activities of your pet from any smartphone and can even locate and track it. Retailing for $79.95, you'll have to also pay for a monthly service plan.
04
Netgear has a baby monitor
A creepy one from Netgear. It's introduced a baby monitor with ears and is calling it the Arlo Baby. It's a home security camera plus a baby monitor and does exactly what baby monitors do. It'll go on sale for $249.99 in April. It'll even come with a 7-inhc tablet to monitor the video feed for $100 more.
05
Hyundai has a foldable electric scooter
Hyundai's gone ahead and announced an electric scooter concept. The company didn't reveal what exactly the scooter can do, or if it will be in production anytime soon.
It's foldable, has lights on front and back, and a digital dashboard showing things you'd expect it to show like speed and range. No price, no date, no top speed. For now, it's just a concept that will hopefully become a reality sooner rather than later.
06
Toyota's concept vehicle car
Toyota has taken the wraps off its Concept-i vehicle. The car has a built in artificial intelligence that has been nicknamed "Yui" and will "learn from and grow with the driver".
"The interface begins with the visual representation of Yui, designed to communicate across cultures to a global audience," Toyota says. "With Yui's home centered on the dashboard, Concept-i's interior emanates around the driver and passenger side and throughout the vehicle in sweeping lines, with interior shapes designed to enhance Yui's ability to use light, sound and even touch to communicate critical information."
The artificial intelligence is embedded into the car. It also has autonomous driving capabilities. No word on price and no word on whether it'll even make it to production but damn, the car looks amazing.
07
Nvidia has a new Shield TV
Nvidia's new Shield TV comes with 4K HDR video and has Google Assistant onboard. It's one of the best streaming boxes out there and this one has a better design, 4K HDR support and has both a remote and a gaming controller. It is available for a steal at $199.99.
It will be shipping later this month. Nvidia claims it has three times the performance of other streaming boxes currently available. It is running Android TV that has much improved over the year.
Nvidia also launched BB8. Yes. It's a self-driving car (who isn't coming out with one these days?)
Nvidia's autonomous car has been around California and New Jersey for quite sometime now and this name comes from the Star Wars series.
09
360-degree 24-hour live stream
Ricoh has pushed its 360-degree cameras into live streaming territory. It's new Ricoh R is the company's first spherical camera and can 'easily' live stream without hiccups. It can stream 2k, 360-degree videos at 30 frames per second (FPS). More than that, it can stitch images from the dual lenses in real time.
It can live stream footage for up to 24 hours but - and here's the catch - only when hooked up to an outlet. Who knows why anyone would want a live-stream of a 2k 360-degree video, but nonetheless, it will shortly be available for purchase. No details of when or what price as of now.
10
HiMirror Plus (just to point out the wrinkles)
Yes, smart mirrors. The Internet of Things (IoT) hasn't left anything untouched. The latest victim being the faithful mirror. This time it is the HiMirror Plus. In the most simple of terms, it will scan your face, be horribly mean to you, and tell you what's wrong with it.
It can be anything from wrinkles to red spots, pores to fine lines and more. Basically, it's like the mirror from Snow White but with a bad attitude. It takes each part of your skin (whatever that is supposed to mean) and rates it on a scale of 1-100. Of course, the higher the score, the more perfect your skin is. Guess what? This is the second version of the device. It costs a good $259 and the Plus model can store a whopping 14,000 photos (some people are selfie obsessed) and support up to six different users. "The mirror also doubles as a streaming device that plays music from Spotify or streams YouTube video". Useful, I guess.
11
Hisense is a TV brand you've not heard of
Hisense has gone all-out with a $13,000 100-inch laser TV. Yes, you read that right. Get your savings ready, it's a 4K 100-inch laser TV. It projects a KHDR picture onto a screen that comes included in the package. This happens over USB or HDMI. The bonus is that it comes with a 5.1 sound channel system. Beyond this insanely expensive TV, Hisense is launching the cheaper H10D that will be available in 70 and 75-inch configurations. This one starts at a mere $3,499. There are a number of other models but the one that may excite you is the H7 that costs a mere $399 for the 43-inch model.
Hisense has also launched TVs under the Sharp brand (it licensed the brand a while back). Details are scarce on the Sharp TVs as there is no release date but Hisense TVs should be available in March.
12
ASUS has a new phone that's up to no good
ASUS has unveiled the Zenfone 3 Zoom and the kicker here is that it has less optical zoom than its predecessor. It makes up for that with a beefier 5,000 mAh battery. ASUS is claiming that the 5,000 mAh battery is so good, you can charge your other gadgets with it!
It has 2.3x optical zoom, less than the 3x zoom on its predecessor and has a dual-camera setup. Specs are mediocre and this phone isn't going to excite anyone.
13
Self-balancing electric skateboard
Future Motion has unveiled its Onewheel+. It's a self-balancing electric skateboard. It's taking the self-balancing electric rideable movement forward. "It's essentially a slab of wood and metal with a cutout in the middle where a wheel - yes, one wheel - and some motors allow you to drive around on streets, sidewalks, and grass," reports The Verge. It tops out at 19 miles per hour and has a quiet motor (or at least quieter than last year). It's available now, ships in February and costs
a mere $1,499.
14
Beam your photos to your phone with this DSLR from Nikon
Nikon has trotted out a beginner DSLR that 'instantly' beams all your photos to your smartphone so that you can instantly share them on all your social media accounts, no matter whether it is Snapchat, Instagram, Facebook, Twitter or any other one you might be on.
The model is the D5600 and will be available for $799. With it comes an 18-55mm kit lens. Snapbridge is what Nikon is calling the always-on Bluetooth connection that will beam the photos to your phone. It isn't much different from last year's D5500 that was also unveiled at CES.
15
LG announced some phones
Yes, no one cares. Some have fingerprint sensors and they're midrange devices. They're mediocre upgrades from last years models. There are four models - the K10, K8, K4, and the K3. As for the specs, there's really no need to mention them, because if you have an iota of sense, you aren't going to buy these.
16
Boxers to keep the radiation away
Yes, we now have smart underwear: The Spartan. It's an underwear startup that wants to protect what's below the belt from cellphone radiation.
Whether it will succeed in doing so remains to be seen. Created by two French entrepreneurs, the cotton fabric of the boxers also contains silver. The company calls this an "electromagnetic shield" around the testes and keeps away the harmful radiation. They cost a rather high $45 a piece with free shipping. If you buy in bulk, you get a discount!
OLEDs be dammed, Samsung has unveiled a QLED TV that it claims is better than OLED TVs.
The Q9, Q8 and Q7 are coming out this year. The peak brightness reached by these TVs is somewhere between 1,500 and 2,000 nits. Other improvements over last year's models include colour reproduction. Regardless of the light in the room where the TVs are being placed, the picture output will be "stunning". These TVs are powered by Samsung's very own Tizen and have an unchanged interface from last year's model. The price is unknown as of now.
LG has come out with a stunning flagship 4K OLED TV that is all about its thinness. This one is the 4K OLED W series TV. The TV has a new "picture-on-wall" design. It's got a display and a Dolby Atmos soundbar. The screens measure a mere 2.57-millimeters thick for the 65-inch model (there is a 77-inch model as well). What's even more impressive is that the 65-inch model weighs just 17 pounds. Pricing hasn't been announced but a number of other OLED TVs that aren't as extraordinary have been unveiled.
Sony has an OLED 4K TV with with Dolby Vision HDR that may just rattle its competitors. XBR-A1E Bravia 4K OLED TV is the company's flagship TV for 2017. Sony claims the TV will bring in "unprecedented black levels, rich and lifelike color, dynamic contrast, blur-less image, and a wide viewing angle." No word on pricing as of yet.
Besides TVs a 4K projector from Sony for $25,000 has also been unveiled. It's a 4K 'short throw' projector. It's got a complicated name though - VPL-VZ1000ES. It weighs a whopping 77-pounds and is three feet wide. It'll be available come April.
18
Electric vehicle to charge your devices
It's now a reality. An electric bike and a charger on the side. The prototype URB-E electric vehicle was unveiled at CES in 2014 and in 2017, four new units have been launched alongside many accessories. The URB-E Sport is what most attendees are interested in. It costs $899 and runs 16 miles on a single charge. It has a top speed of 14 miles per hour. The new models have a pop out battery that leaves you with four USB ports, one USB-C port and two AC power slots. That's quite impressive.