CES 2018 day 3: Honda's robots, Amazon Alexa and Dell's new XPS 15 2-in-1 dominate the day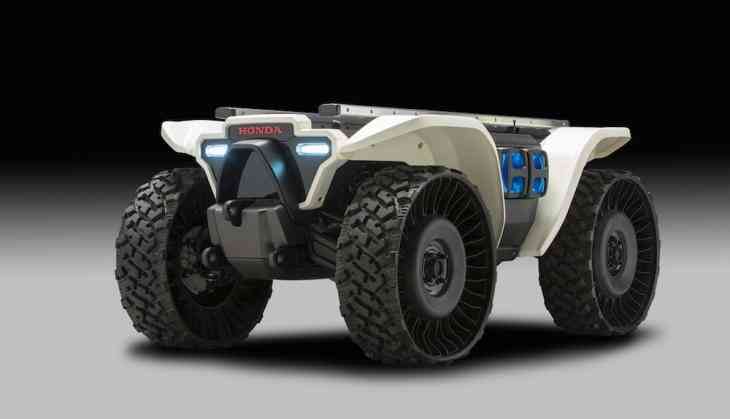 The Consumer Electronics Show opened its floor to the public on Tuesday, 9 January. It literally started with a flood. Of both gadgets and rain. Los Vegas hadn't got rain in over three months, but this one came down hard. The convention centre was leaking by the time it was morning and Google even shut its pavilion! Regardless, the show went on and we have all the updates from the things that mattered at CES:
Amazon Alexa
Amazon's Alexa voice assistant didn't want to be left out. The company, headed by Jeff Bezos, announced that the Alea voice assistant will be in cars - Toyota and Lexus - later this year in the USA. With the voice assistant, drivers can now remotely lock a vehicle, play music, and find recommendations for things to do nearby. Also, as is expected, they can use the assistant to get directions to their destination.
Vivo
Vivo showed off its nameless phone to journalists at CES. This phone is the first with a fingerprint scanner built into the display of the phone, rather than needing a separate button either below the display or on the back of the phone. The technology is in its nascent stages and one shouldn't expect this technology in flagship phones this year. More details will be revealed in an event on 10 January.
Honda's robots
Honda is envisioning a future in which multiple robotics devices work together toward the goal of a better human life. The four robotics demonstrations were unveiled under the 3E Concept. One of the robotics is the 3E-D18. This is an autonomous off-road workhorse. It's an ATV chassis, in essence, without any resemblance of a seat. The 3R-B18 is a wheelchair and can be used both inside the house or in the outdoors. It can also be used as a luggage cart or even a stroller.
Project Linda
Razer year after year churns out one of the highlights of CES. Last year it was the triple-screen laptop. This year it is a 13-inch laptop, similar to the Razer Blade Stealth. What's different though is something that is also unique. The laptop is powered by none other than the company's very own Razer Phone. The Razer Phone is an Android device. It is being powered by Qualcomm's Snapdragon 835.
The phone fits in right where the trackpad would be on a traditional laptop. The phone can then be used as a touchpad, or even as a second screen.
Dell new XPS 15
Dell unveiled its XPS 15 2-in-1 laptop that packs the new Intel-AMD combo unleashed a couple of days ago. It's a hybrid device. It's a big-screen Dell laptop that has a 360-degree hinge. It folds, like the Yoga line of laptops from Lenovo, all the way to become a tablet. What you get inside is Intel's eighth generation of Core i-series chips along with AMD Radeon Vega M GPU.
Dell is claiming the battery life will let you run the laptop for 15 hours and is just 16mm thick. It has an edge-to-edge Infinity Display with a 4K resolution.
Samsung Galaxy S9
Samsung confirmed at CES that it will unveil its next flagship, Galaxy S9/S9+, at the Mobile World Congress (MWC) next month. MWC runs from 26 February to 1 March and the device could pop up at any time during this time.
Sennheiser has a soundbar
Sennheiser is known for the quality of its sound. Surprisingly, it's never had a soundbar in its lineup. Well, at CES this time around, they have mended things. It has shown off a prototype soundbar expected to make it to retail by the end of 2018.
Here's the Verge explaining the amazing sound, "The prototype's body is unfinished, but the speakers are working. I got to hear them inside a small, square room, as a Sennheiser representative switched between nature sounds, musical performances, and movie action sequences, including the snowstorm and the beginning of Fury Road. But I didn't need to hear half of that to realize Sennheiser's first soundbar sounded way better than any soundbar ought to."