Alphabet beats Apple: It is the Moonshots that will keep it atop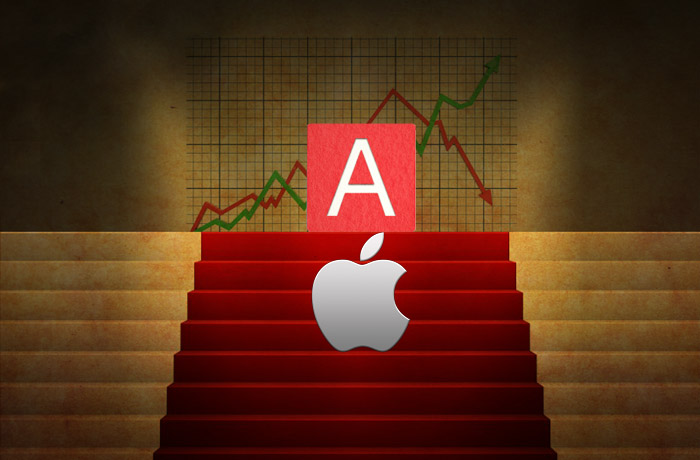 Back on 11 August of last year, Google transitioned into Alphabet. Simply put, Alphabet was a company full of companies
At the close of the US stock market on 1 February, Wall Street got its first glimpse of the financial details of this new parent company. Investors cheered every moment of the results like no other, pushing Alphabet past Apple and making it the world's most profitable company. With a market cap of $570 billion against Apple's $530 billion, Alphabet is the new numero uno. This though, is a far cry from Apple's all-time record high of $774 billion back in February of 2015.
Also read - Reddit revolt: why the 'front page of the internet' went dark for 24 hours
This upbeat response is in contrast to what happened after Apple's earnings on 26 January. Apple posted a record quarterly profit of 18.4 billion dollars but investors just didn't like it. The problem for Apple is that, the future is bleak. The company predicted its first year-over-year decline in revenue in the last 13 years. Apple's stock price has come down from above 100 dollars before earnings to 96 dollars now.
Its the driver-less cars that will ride Google into the future. Google, in its monthly report, announced that its driver-less cars cover over three million miles per day and in the past six years, it has covered an impressive 1.4 million miles. It's also the high-speed internet and internet capable balloons that will propel the company higher.
Alphabet versus Apple
Alphabet is primarily a software company with a couple of hardware bets on the side while Apple is a hardware company with some software bets on the side. It is the former outperforming the latter. In the last one year, Apple's stock has been on a decline. Which has been the exact opposite from Google.
There was a time, back in January of 2010, when Alphabet's (then Google), market cap exceeded Apple's.
This has been a long time coming, with Apple finally peaking. Peaked it has and what else does one do when at the summit with so much competition? Fall. Back on 11 August, 2011, Apple had overtaken Exxon Mobil Corp. and seized the title of world's most valuable company as tech-growth confidence surged and oil industry fell. At the end of trading, on that day, Apple was at $337.2 billion compared to Exxon's $330.8 billion. Then, last year, in February, Apple rose to its record high, which was more than double Exxon, at the time number 2, at $374 billion.
Now the seemingly impossible has been done. The juggernaut that is Apple has been dethroned.
Earnings beat
For Q4 2015, Alphabet handily beat investors estimates of an income per share of $8.10 on $21.33 billion with a net income of $8.67 a share on revenue of $20.8 billion.
For Alphabet's first ever earnings call, Google did something we've all been waiting for. It broke out its non-Google parts into a segment that they called "other bets". Google Fiber and Nest primarily make up the bulk of these "other bets". The rest is made up of Alphabet's moonshots.
This "other bets" segment had revenues of $448 million for 12 months ending on 31 December while it lost $3.5 billion. This, in comparison to 2014, where it brought in $327 million and lost $1.9 billion.
Google's ad revenue was also up - where it gets it primary source of income- at $19.08 billion, which translates to a 17% year-over-year increase.
Google's 'Other Bets'
Gmail, part of its core services, has passed one billion users in the fourth quarter. Gmail joins six other services with moe than one billion users - Android, Chrome, Maps, Search, Google Play app store and YouTube.
On the other hand, there are "Other Bets" that consist of Google Fiber, Calico (biotech company), Nest (smart home devices), Verily (life science division), GV, Google Capital, X (research arm that includes driver-less cars, drone delivery, internet via balloon, contact lenses that detect glucose levels, AI and more), and some other initiatives.
Future investment areas for Google include clud computing, virtual reality, artificial intelligence, driver-less cars and high-speed internet.
To a lot of people's surprise, last week, it was revealed by the US Patent office that Google was indeed working on yet another one of its ambitious 'Moonshot' projects. This time it involved gigantic robots. This particular robot in the illustration in the patent had a body and four legs and performed various functions.
A headline from last week in The Verge reads, "Google might have drones deliver packages to robots on wheels". This just shows the variety of projects Google is involved in.
There is also its virtual reality device, Google Cardboard, which has shipped 5 million of the foldable cardboard devices since launching 19 months ago. More than 350,000 hours of VR video has been watched on the device.
Google likes innovation. Google also likes out of the box thinking. All these will provide Google the lift it needs to keep up top. It is this, exactly, that will keep Google on top of the competition come the next 10 to 20 years. They may be loss making for a couple of years, but if Google weathers the storm and keeps them running, who knows how high they will be come 2050.
Moonshoots will play a much bigger role and if they keep on spending on them, eventually, they'll make a whole lot more money and who knows if anyone other than Apple can give them a shot at taking over the throne of the most valuable company in the world.
More in Catch - Roast me, reddit - be the star of your very own roast
Busted by the FB-I: why is Facebook playing moral police?
Save the Internet. Why you should stop Facebook's "Free Basics"