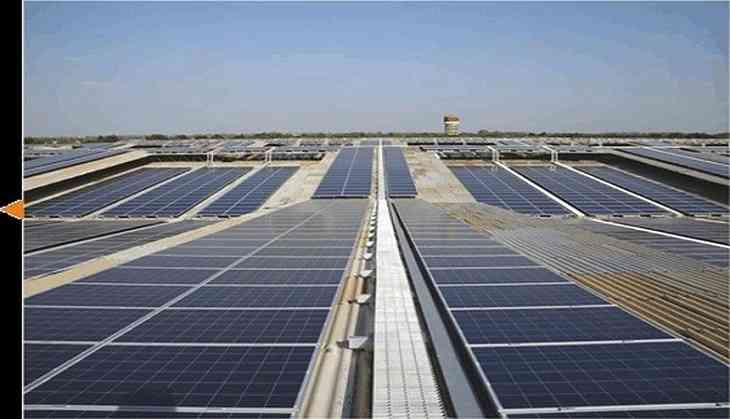 As batteries and new sources of flexibility bolster the reach of renewables, the renewable energy will be reaching 49 percent in India, 55 percent in China, 74 percent penetration in Germany and 38 percent in the U.S. by 2040 anticipates newly released Bloomberg New Energy Finance's (BNEF) annual long-term analysis of the future of energy- 2017 New Energy Outlook (NEO).
"The Wind and solar energy account for 48 percent of installed capacity and 34 percent of electricity generation worldwide by 2040. This is compared with just 12 percent and 5 percent today. Installed solar capacity increases 14-fold and wind capacity fourfold by 2040. We anticipate renewable energy reaching 74 percent penetration in Germany, 38 percent in the U.S., 55 percent in China and 49 percent in India by 2040 as batteries and new sources of flexibility bolster the reach of renewable," report says.
Both India and China account for 28 percent and 15 percent of all investment in power generation till 2040, according to the Forecast.
According to BNEF forecast, "China will go big on renewables, with wind and solar capacity increasing eight-fold to 2040. Coal consumption in China peaks in 2026, but at a level 20% higher than today. Nevertheless, China remains the world's largest coal consumer and emitter, with that fuel still accounting for 30% of the generation mix in 2040."
Talking about coal energy in India, the BNEF forecast suggests, "India significantly expands its coal fleet over the next five years, adding over 40GW of new coal plants. Following that, we expect coal new build to slow but existing plant utilization to increase, pushing up coal consumption by around 3 percent per year through the 2020s. From 2030, solar begins to sideline coal in India, with the pace of PV additions more than doubling from the 2020s to the 2030s.
However, the global power sector emissions peak in 2026 at 14.1Gt, then decline by one percent per year out to 2040. This is a steeper decline than in our previous forecast, mainly due to a faster rate of Chinese coal retirements compared with NEO 2016. We also expect India's emissions to be 44 percent lower by 2040 than in our NEO 2016 analysis, as that country embraces solar and invests USD 405 billion to construct 660GW of new PV.
The BNEF report predicts that global emissions to peak in 2026 and then start to fall, as coal-fired power starts to fizzle out in India and China.
"The report suggests that the greening of the world's electricity system is unstoppable, thanks to rapidly falling costs for solar and wind power," said Seb Henbest, lead author of the report at BNEF.
Alongside the growth of renewable generation capacities, supporting technologies such as storage will also continue their impressive growth. BNEF expects the global lithium-ion battery market to be worth USD 239 billion between now and 2040, and for electric vehicles to account for 13 percent of electricity generation in the U.S. As manufacturers scale up to meet this demand, the cost of lithium-ion technology is expected to fall by 73 percent by 2030.
"This year's forecast shows EV smart charging, small scale battery systems, plus utility storage on the grid," said BNEF lead analyst Elena Giannakopolou, "playing a big part in smoothing out the peaks and troughs in supply caused by variable wind and solar generation."
The latest long-term forecast from analysts Bloomberg New Energy Finance (BNEF) predicts solar energy costs to drop a further 66 percent by 2040 and onshore wind by 47 percent. Given these predictions, BNEF expects that renewables will undercut the majority of fossil-based generation by 2030, even in India and China.
Some highlights of the reports suggest:
• Asia Pacific leads in the energy investment
China and India are a USD 4 trillion opportunity in the energy sector. China accounts for 28 percent, whereas India accounts for 11 percent.
• Solar Energy to get cheaper than coal
Solar Energy is currently as cheap as coal in Germany, Australia, the U.S., Spain and Italy. It is set to drop its prices in India, China, Mexico, U.K., and Brazil.
• Decline in the usage of coal
Cheap renewable energy forms would decrease the use of coal in Europe by 87 percent and in the U.S.A by 45 percent. Many of the planned coal power plants will not be built. Coal production would grow in China but only till 2026.
• The need for large-scale gas and coal plants would be reduced
By 2040, rooftop solar power system will account for as much as 24 percent of electricity in Australia, 20 percent in Brazil, 15 percent in Germany, 12 percent in Japan, and 5 percent in the U.S. and India.
• Renewable energy forms to dominate the future
Out of the $10.2 trillion to be invested in new power generation capacity, $7.4 trillion goes out to renewable.
• Onshore and Offshore wind costs to drop in the future
Due to greater efficient turbines and streamlined operating and maintenance procedures, offshore and onshore wind costs to drop down by 71 percent and 47 percent respectively.
• Electric vehicles to strengthen usage of electricity and balance the grid
When the cost of renewable energy forms will drop down, it would be feasible to charge electric vehicles.
• Global power sector emissions to reach at its peak in 202, then drop by 1 percent per year out to 2040.
This would be matching with China's generation coal reaching at its peak in 2026.
-ANI