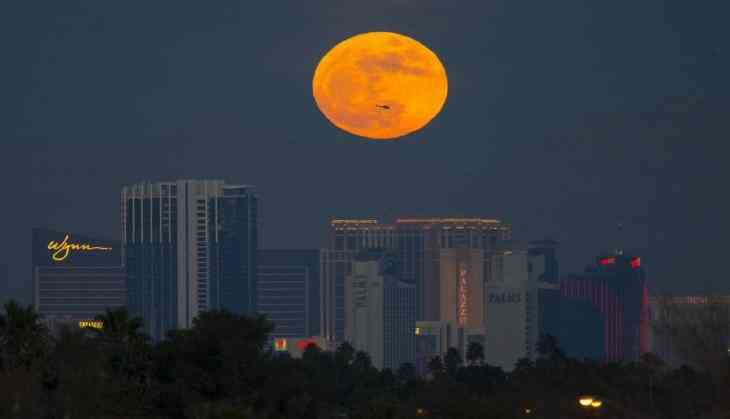 People across the world will be able to see a total lunar eclipse on May 26. The moon will appear slightly reddish-orange in colour due to the lunar eclipse. It should be noted that it is the first total lunar eclipse of the year 2021.
What is a total lunar eclipse?
A lunar eclipse occurs at Full Moon. This takes place when the Earth comes between the Sun and the Moon blocking the ray of the Sun from directly reaching the Moon. On the other hand, the solar eclipse takes place when the moon comes between the Earth and the Sun, blocking the rays of the Sun.
On May 26, the moon will reach the closest point in Earth's orbit. However, the total lunar eclipse won't visible from all parts of the world. Therefore, people skygazers can watch the first total lunar eclipse of the year through the Internet and enjoy the live streaming of the supermoon event.
Also Read: NASA's Artemis program will land first person of colour on Moon
Where to watch?
A lunar #eclipse is sometimes called a "blood moon," but the actual source of the red color is quite gentle: it's light filtered through all the sunrises and sunsets on Earth. Here's our video guide to #LunarEclipse2021 and how to see it on May 26: https://t.co/sDNOcwAxcF pic.twitter.com/cNYkKLCPho

— NASA Solar System (@NASASolarSystem) May 24, 2021
The Virtual Telescope Project
The online observatory was founded by astrophysicist Gianluca Masi. It is based in Italy and will broadcast not one but two live streams of the total lunar eclipse on May 26. The first stream of the lunar eclipse at 3:30 pm IST while the supermoon will be broadcasted later in the night.
Griffith Observatory
The Griffith Observatory will webcast the total lunar eclipse on May 26. It is based in Los Angeles, US. The observatory will live stream the eclipse on YouTube at 02:15 pm IST. Due to the coronavirus pandemic, there will be no public or in-person events to watch the supermoon.
Also Read: 16-year-old boy clicks 50,000 photos of the Moon; know why