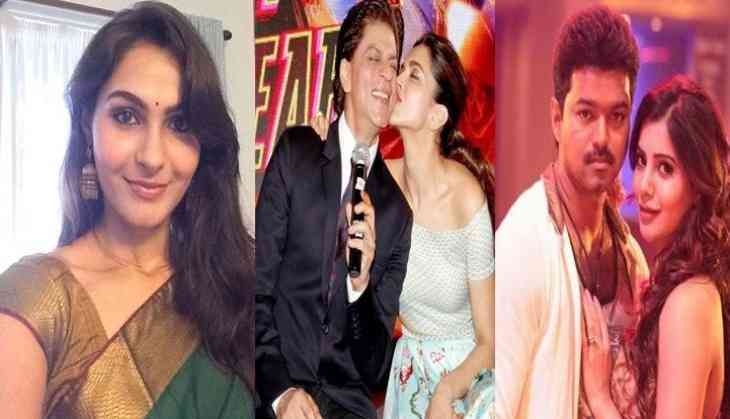 Pic: Andrea Jeremiah, Shah Rukh Khan and Deepika Padukone, Thalapathy Vijay and Samantha
Andrea Jeremiah is known as one of the talented actresses of Tamil film industry. Her previous release Aval turned out to be a good hit at the Box Office as well.
However, even after acting in successful films, Andrea Jeremiah admitted that film industry is completely male-dominated. The Vishwaroopam actress was speaking on the occasion of International Women's Day at Jeppiar College, Chennai.
"Who are the superstars of Indian cinema? You will name Shah Rukh Khan, Salman Khan, Aamir Khan and Rajinikanth. There are hardly any actresses in the superstars list because roles are seldom written for them and narratives do not revolve around their character. The success of an actress is measured by which male superstar she has acted with rather than her own work. A woman actor who does a blockbuster film with a star like Vijay, would go on a signing spree".
"Indian cinema is changing. But in order for a Deepika Padukone to be a Deepika Padukone she had to act with Shah Rukh Khan. Yes, I can look hot and sexy and I can act also. So, write roles for me and don't ask me to come on screen and jiggle my butt and wear revealing clothes and be happy with that", Andrea said.