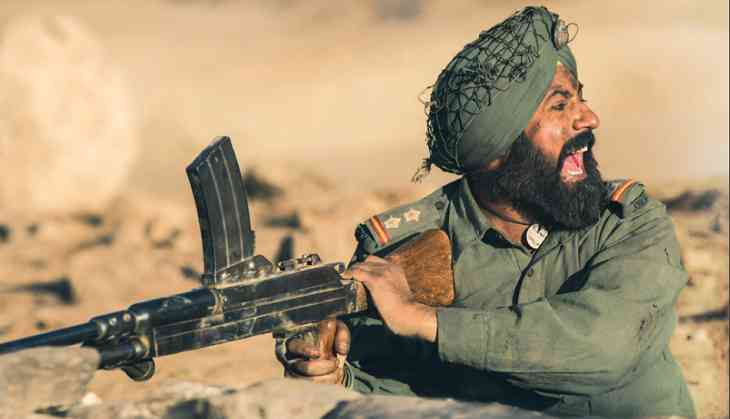 Much- anticipated war film, the first ever on a Param Vir Chakra recipient; titled on the name of the martyr 'Subedar Joginder Singh' has once again bombarded the internet with its next asset which was released yesterday by the makers 'Seven Colors Motion Picture'.
The inspiration to make this film on the brave Indian soldier who served the British Indian Army, and later the Indian Army, is drawn from the true to life events and incidents of his life that led him to become what he became and is now remembered in a reverential tone.
We all seem to have forgotten the chapter from the annals of our history, the Sino-Indian War, 1962, wherein, a handful of Sikh soldiers stood strong against the waves of thousands of Chinese army men, trying to intrude in our country. The film's teaser showcases a series of events, which must have happened then. The makers have, to utmost precision, maintained the authenticity of the subject. It goes without saying that the teaser is strong, powerful, precise, and intricately planned. It, expeditiously, rushes through your sight leaving behind a deep impression on your mind; instantaneously arousing deep respect for the nation, and for the people who uninterruptedly work for the protection of its honor.
ALSO READ: Subedar Joginder Singh: Smt. Kulwant Kaur, the youngest daughter of the martyr warmly wishes the makers of the film
On the eve of India's Republic Day, the teaser of this war film- a subject of national importance has reverted people's attention to the forgotten chapter of our rich history, wherein, the strategic Line of Actual Control was being attempted by the Chinese army to barge in. Few of our soldiers, belonging to the Sikh Regiment and being led by one courageous soul- Subedar Joginder Singh stood rock steady in front of the Chinese troop to protect the sovereignty of our motherland. The teaser of the film, very well captures the patriotic sentiment of the cast if the film, making the same travel in to the heart of general audiences. One faces the adrenaline and a sudden energy outburst when the Sikh regiment's war cry 'Jo Boley So Nihal, Sat Shri Akaal' is hailed in the teaser.
Check out the action packed trailer here:
Gippy Grewal's dialogue in the teaser, 'For your kind information, this land belongs to India' is a rage amongst the youth, already! His acting skills have surpassed his previous performances of a lover boy, and this film, in all likelihood, will turn out to be the best war film ever made in the history of Punjabi Cinema. Kudos to the entire team of Subedar Joginder Singh; whose sincere efforts of educating the masses about this brave soldier, and his supreme sacrifices for the nation have started delivering the results in the desired manner.
ALSO READ: Subedar Joginder Singh: First look of Gippy Grewal revealed; see pictures
The film is all set to release during the first week of April 2018.