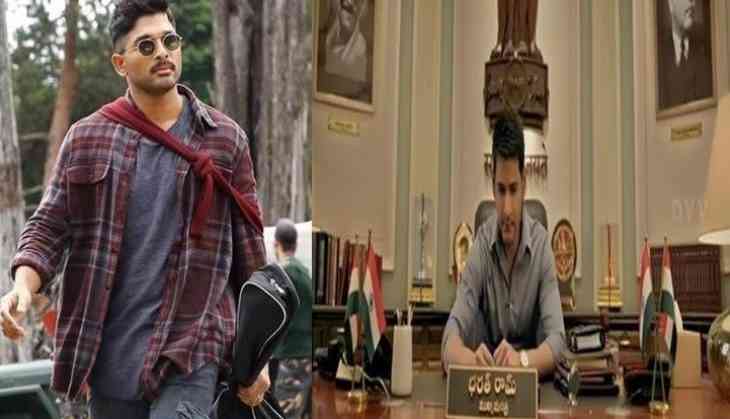 Pic: Allu Arjun in Naa Peru Surya Naa Illu India, Mahesh Babu In Bharat Ane Nenu
Telugu actors Mahesh Babu and Allu Arjun are considered as two of the biggest superstars of South Indian cinema. In fact most of their films hit the screens as summer releases.
And there's no change in 2018 as well.
Mahesh Babu's Bharat Ane Nenu is scheduled to hit the screens on April 20 while Allu Arjun's Naa peru Surya Naa Illu India releases on May 4.
However on Sunday Allu Arjun proves that he is bigger star than Mahesh Babu,
Interestingly, last weekend saw the release of Bharat Ane Nenu trailer and Naa Peru Surya's dialogue teaser. The trailer of Mahesh Babu starrer which had released online on Saturday clocked a whopping 11 million views in 24 hours. But much to the delight of Bunny fans, the dialogue impact of Naa Peru Surya, which had released on Sunday as the birthday treat for Allu Arjun fans has clocked a massive 15 million views in 24 hours. The Allu Arjun teaser also unseats the record set by Bharat Ane Nenu trailer as well.
Bharat Ane Nenu stars Kiara Advani as the female lead while Anu Emmanuel portrays the female lead opposite Allu Arjun in Naa Peru Surya.